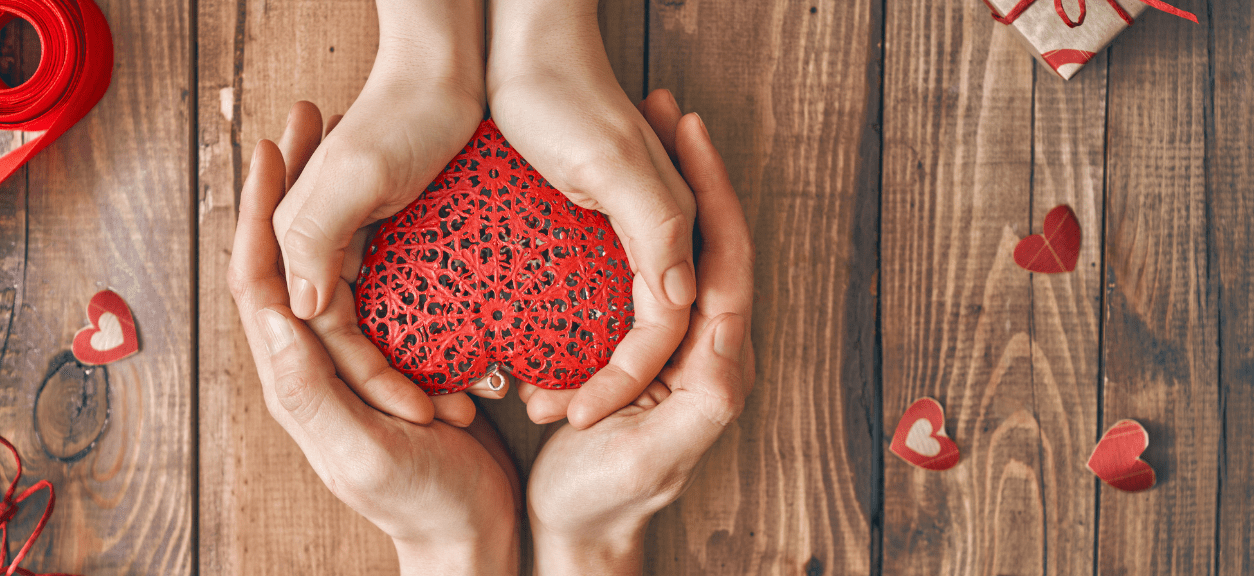 Keep sustainability at the heart of your Valentine's Day celebrations this year with our ethical gift guide.
Why the planet doesn't love Valentine's Day
Valentine's Day is big business but, unfortunately, contributes to a vast amount of unnecessary waste every year. Consequently, all of that waste has an enormously detrimental impact on the environment.
Valentine's Day is likely to be celebrated by 40 million Brits this year, with an estimated total spend of around £1 billion. That's a significant drop from 2020, where the average spend and number of people celebrating was much higher.
Unsurprisingly this will be down to the limited options while we're in lockdown. For example, romantic meals will be restricted to takeaways or cooking at home. Romantic getaways abroad will also have to wait.
But that still means we'll throw out millions of roses, cards, bottles of bubbles, sweet treats, and tonnes of food waste and unrecycled packaging. As a result, most of this waste will likely end up in landfills or our oceans.
How ethical gifting can help
However, Valentine's Day doesn't have to be a big, expensive commercial affair. It should be about the thought and time you put into making your gift personal, and it doesn't even have to cost a penny.
Neither does it have to involve single-use plastic that will only end up discarded after use and doomed to a landfill or the oceans.
If you've left Valentine's Day a bit late this year or you're struggling to find the right ethical gift for your loved one, a friend (or for yourself – after all, we all need some self-love), then this blog post is for you!
We've put together a list of our favourite ethical gift ideas that will hopefully make an impact on your loved one without negatively impacting on the planet. Additionally, we give some top tips and fascinating facts about each one.
Whatever you do this Valentine's Day or Galentine's Day, don't give the gift of nothing.
Top 10 ethical gifts
1. The V-Card
First up in our ethical gift card is the V-Card. Unfortunately, many supermarkets sell greeting cards wrapped in plastic, but the good news is that there are plenty of eco-friendly alternatives.
Let's start with whether you need a card. It shouldn't be obligatory. How about a handwritten note, or simply telling each other how you feel? However, cards can be special too, so here are some sustainable options.
If your card is made from paper or card, you should recycle it. However, as it takes 8,000 trees to produce 25 million Valentine's cards, it's best to opt for cards made from recycled card.
Secondly, avoid cards with glitter, foil, ribbon, and battery-operated audio devices, as these are often difficult to separate from the card and so can't be recycled.
Thirdly, if you're feeling creative, you could reuse previous cards or photos to make a new card.
Finally, e-cards are completely zero waste and perfect if you've not left yourself enough time to buy or make one in advance.
Top tip: You can find out more about recycling greeting cards from Recycle Nation.
Fascinating fact: Teachers receive the most Valentine's Day cards, followed by children, mums, wives, then pets.
2. Chocolates
What's Valentine's Day without indulging in chocolate? So many choices, yet so much plastic! Not to mention unsustainable palm oil – that nasty ingredient that is the cause of so much deforestation and wildlife displacement and deaths.
Plastic and palm oil aside, child labour and slave labour is, unfortunately, commonplace in the supply chain of sizeable commercial chocolate brands. In other words, avoid this type of chocolate.
Go premium with Fairtrade artisan chocolate like Islands Chocolate, a great sustainable option. It's vegan, made on family-run cocoa farms, has an ethical supply chain and is wrapped in sustainable packaging. Additionally, it comes with a free Spotify playlist, exclusive to each flavour!
Top tip: Buy dark chocolate with at least 70% cocoa if you want to ensure more of your money goes to cocoa farmers.
Fascinating fact: Chocolate is an aphrodisiac and was known as Casanova's favourite dessert.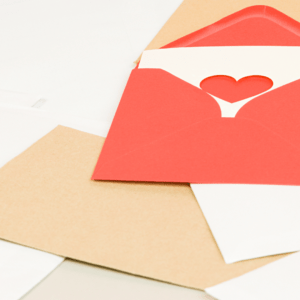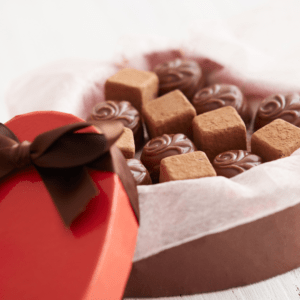 3. Flowers
Red roses may look lovely, but they're not 'green'. The UK imports 90% of flowers, including red roses, which are not in season in the UK at this time of year.
This year opt for locally grown seasonal flowers and try and buy organic. You'll support British farms and reduce carbon emissions from air miles and pesticides.
In addition, avoid flowers wrapped in plastic and ask your florist to wrap paper. It looks so much nicer and can be recycled.
Instead of throwing flowers away once they come to the end of their life, you could turn them into something new, like flower crowns, face mist, or add them to candles. There are plenty of other innovative ways to repurpose flowers if you search online. Otherwise, you can pop them in your compost waste.
On the other hand, if you're not very green-fingered, consider a plant instead of flowers as it should last longer.
Top tip: To preserve your flowers for longer, dissolve three tablespoons of sugar and two tablespoons of white vinegar into the water and cut the stems.
Fascinating fact: 15% of women send themselves flowers on Valentine's Day. We are all for self-love!
4. Candles
A candle can help create a cosy, romantic atmosphere and is perfect for a special occasion like Valentine's Day.
However, paraffin wax is the main ingredient used to produce many candles on the market. These types of candles emit toxic pollutants into the air when burning, as they are a by-product of petroleum. As a result, you can imagine what it does to the air in your home.
Therefore, choose a sustainable candle such as Lit Candles, vegan and 100% plastic-free. The natural ingredients ensure a longer lasting fragrance and will burn for up to 50% longer than paraffin wax candles.
Top tip: When you light a new candle for the first time, let it burn enough for the entire top layer to become liquid; otherwise, it won't burn evenly.
Fascinating fact: Soy wax candles are the only type that is safe for eating and cooking with (although it's not recommended).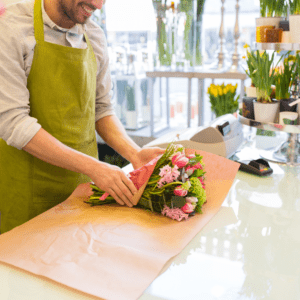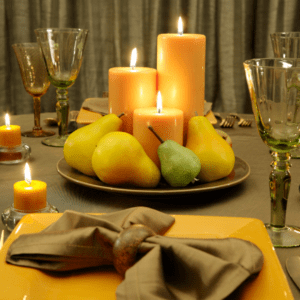 5. Jewellery
Ethical jewellery is about more than Fairtrade materials and conflict-free diamonds. It's also about ensuring fair wages and working hours, and not using child labour or production methods that pollute the environment.
Etsy is home to thousands of handmade jewellery brands, including second-hand vintage finds. Therefore, it's great for finding a unique gift. If you're unsure how it will be packaged, request plastic-free packaging in your delivery.
Are you planning to pop the question? See number 10 on our list!
Top tip: Keep jewellery inside a jewellery box and separate from other jewellery to prevent it from becoming tarnished.
Fascinating fact: Jewellery accounts for 24% of the money spent on Valentine's Day.
6. Beauty Products
Most of us love a bit of pampering, but we don't all have the time or money to go to a spa. Pampering is also more difficult as salons have been closed for the best part of a year. So, what better way than to treat your eco-conscious loved one than an affordable, ethical gift box full of lovely natural and organic products that are also plastic-free.
Our Eco Pamper Gift Box makes the perfect Valentine's gift for a loved one or yourself. It contains five luxury and sustainable products in a beautiful premium gift box that can be reused.
Top tip: You can recycle plastic beauty product packaging (including tubes, lids and caps) from any brand with the Teracycle and Return to Origins recycling programs.
Fascinating fact: It can take almost 1,000 years for the average plastic moisturiser pot to decompose.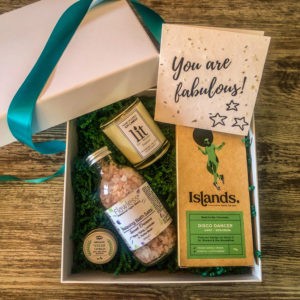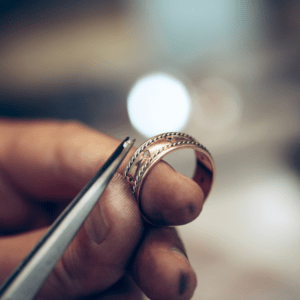 7. Organic Alcohol
Getting merry with your other half is a great way to enjoy Valentine's Day, so how about getting a bottle of your other half's favourite tipple as a gift? Whether it's bubbles, wine, spirits, or beer you're looking for, there are some delicious sustainable options out there.
Drinking champagne, sparkling wine, prosecco, or cava feeds the mind as much as the senses, which is why it is such a popular drink for celebrations. Fortunately, many producers in the Champagne region of France, Great Britain, and Italy are committed to increasing sustainable winegrowing practices.
Whatever you buy, go for organic if you can. Organic alcohol is the most ethical option as it's grown without synthetic pesticides, herbicides, fungicides and chemical fertilisers. Consequently, it's better for your body and the environment. Check out some sustainable options below:
Top tip: When pouring bubbles, hold the glass at an angle; otherwise, more alcohol will escape in the form of air bubbles.
Fascinating fact: Corks popped from champagne or sparkling wine can erupt at up to 60mph, so mind those eyes!
8. Make something
If you genuinely want to show you've made an effort this Valentine's Day, show your love by making something that you know your partner will truly appreciate.
If they love music, how about a mixtape or digital playlist containing tracks that mean the most? This is my personal favourite in our list of ethical gifts.
Alternatively, you could bake some Valentine's biscuits, jam tarts, or make a special dinner, for example. Or how about a unique massage?
Top tip: If you're planning to bake or cook, try to get sustainably sourced ingredients not packaged in single-use plastic.
Fascinating fact: The first mixtapes appeared in the mid-1970s in New York City by DJs Kool Herc and Afrika Bambaataa, who influenced the hip hop movement.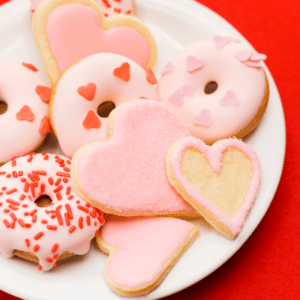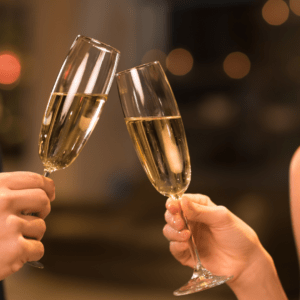 9. Charity Gift
If you want to touch more than one heart this Valentine's Day, a charity gift is the ultimate generosity. The pandemic has a detrimental impact on charities' incomes, significantly less than what they budgeted. Therefore, financial support is needed now more than ever.
Whether you want to help build farms, fill classrooms or plant trees, for instance, a charitable gift will give you that warm and fuzzy feeling knowing that you're helping to change lives around the world for the better. Here are some charitable gift ideas:
Top tip: If you're not sure which charity to give to, Charity Navigator can help you search for a cause close to your heart that is legally registered, well-established and has a proven track record of success.
Fascinating fact: The total income of all UK charities combined is about £48 billion, about £10 billion less than what Tesco makes.
10. Proposal of Marriage!
The final one in our ethical gift guide, we're talking marriage proposals.
Did you know that over one million people will get engaged on Valentine's Day? Therefore, if you're waiting for the right time to pop the question, this 14th February could be the perfect date.
Firstly, if you're looking for the perfect sustainable ring, The Natural Wedding Company has compiled a list of ethical engagement and wedding ring jewellers.
For unique and sustainable ideas for popping the BIG question, we love the idea of a 'tiny tag book', where you fill out miniature pages with special messages contained in a gift box.
Additionally, how about making your hopefully soon-to-be fiancé/fiancée a special breakfast in bed with a very memorable cup of tea?
Top tip: If you want to recreate a favourite restaurant or destination where you'd like to have proposed if we weren't in lockdown, you'll have to get creative. For instance, you could decorate the area related to that culture, play the relevant music genre, and cook or order a takeaway based on the food.
Fascinating fact: The world record for the most prolonged engagement is 67 years! The couple finally took the plunge and married aged 82.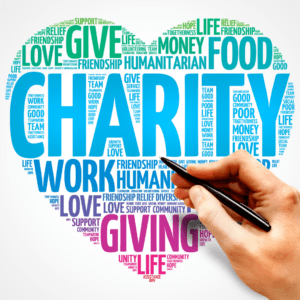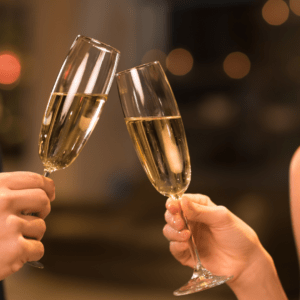 In conclusion, if you plan to celebrate Valentine's Day this year, we hope you find our ethical gift guide useful.
---
The Jolly Turtle supplies eco-friendly bespoke and pre-packed kits for events, travel, hospitality, and lifestyle, offering a simple and convenient way to shop for all your plastic-free essentials.