There's nothing quite like entering a beautifully-decorated tent containing a proper bed dressed with sumptious bedding, all set up so you can literally drop your bags and get out in the field. This is the ultimate luxury in festival glamping!
Meet Laura Audley, one of our lovely glamping customers and Founder of Portobello Tents. I invited Laura to tell us about her wonderful tents and how Portobello Tents evolved to become a luxury sustainable boutique accommodation provider. Enjoy!
1. Tell us about Portobello Tents. Who are you and how did you start?
Portobello Tents is a luxury British glamping company that provides stylish canvas accommodation at festivals and events across the UK and beyond. Our logo, the triangle with a line at the top, is a glyph meaning 'explore'. We love the idea of exploring with our guests; finding inspiration along the way and creating beautiful events.
After some research, I spent November 2015 launching Portobello Tents from my parent's dining room, with the website going 'live' at the beginning of December. I somehow managed to speak to someone at Festival No. 6 who said they loved the website and how many structures did we have? I asked how many they wanted and promptly replied 'we have that' (I had nothing!)… I then had to buy tents, interiors and find a warehouse. Being able to say 'we'll be at Festival No.6' massively helped in talking to other festivals that first year.
2. That's so brave but the risk clearly paid off! What sets Portobello Tents apart from other glamping providers?
Hardwood beds – We only have proper hardwood beds – no airbeds or metal z-beds. They all come with 6" memory foam mattresses, which are in washable, breathable covers.
Professionally Interior Designed – I trained at the KLC School of Design in Chelsea before 7 years working in the industry. Although I'd love to spend hundreds of pounds furnishing each tent (!) it has been a creative challenge producing interiors which are within a budget, attractive and most importantly – can be packed and moved each week. We're basically a travelling hotel under canvas.
Our VIP Lotus Belles are really spacious and come complete with chandeliers, dressing gowns, slippers, plastic-free toiletry hampers and magazines. They really are a magical retreat!
3. Sounds like the ultimate luxury! I know that sustainability is important to Portobello Tents. How are you combatting the issue of single-use plastics?
We have made some small changes as well as trying to educate our guests along the way.
We have teamed up with RAW Foundation to produce a dual-branded zero plastic water bottle and our crew have made a pledge not to buy or use any single-use plastic water bottles – they all have a RAW bottle.
We have introduced (with the help of The Jolly Turtle), plastic-free toiletry hampers – they are brilliant and it is so nice to see a guest striding out of the shower in boutique camping with one under their arm!
People want to make changes themselves but aren't sometimes sure how, or where to start. So, one of our wonderful crew is a graphic designer and made some beautiful and super cool info graphic cards, which we leave in the tents – it lists a few ways to start doing your bit. We've had some excellent feedback from them.
In the warehouse we went from vacuum pack bags for the duvets (which never vacuumed and always broke) to bespoke waterproof, breathable ones which will last forever – red for king bedding and blue for single 🙂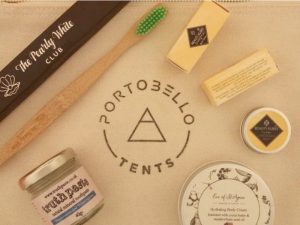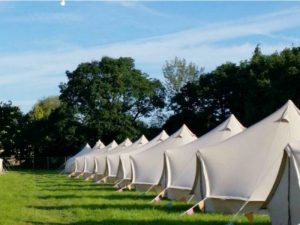 Plastic-free toiletry hampers; Tent symmetry in action (Photo credit: portobellotents.com)
4. We love seeing our plastic-free products in your tents! What are your top eco-friendly tips for glampers?
Eco–friendly glitter – I think most people are aware now that (non-eco) glitter is just tiny bits of plastic. Not cool.
Reusable water bottle – buy one for about £15 and refill it hundreds of times throughout your weekend from the water points around the site (or behind the bar). It will save you so much money as well as being that small change for the environment.
Invest in a waterproof that works and looks good (disposable ponchos are not the one!). There are some really great ones out there. Buy one with pockets – I love a pocket… not too many though.
Car share to festivals – we see so many friends who book tents and request to be pitched near each other (which is great!), but they will arrive in so many different cars at nearly the same time. Share where you can – it's way more fun and makes Sunday night / Monday morning less horrendous!
5. Really great tips. Which festivals can we see your wonderful tents at this year?
Run Fest Run, Wiltshire
Glastonbury (Pennard Hill Farm & Hotel Ziggu)
Noisily, Leicestershire
Westival, Wales
Camp Bestival, Dorset
Wilderness, Oxfordshire
Houghton, Norfolk
PX+ Festival, Hertfordshire
Lost Village, Lincolnshire
Great Dorset Steam Fair
Camp Wildfire, Kent
Burghley Horse Trials, Lincolnshire
6. You'll certainly be busy then! Do you have any funny or embarrassing festival stories you'd like to share?
At the end of our first season we went to Germany with our beautiful Lotus Belle tents. We had nearly finished setting up 35 tents in very hard ground when I was asked to come to explain the smell in a tent. I followed a stern German man into a tent and watched him inhale deeply. He then looked at me and nodded for me to do the same – I started heavy breathing with him none the wiser. After a few deep breaths (and a head rush) he said "you see!". I didn't. He then said "you need to get rid of this smell. It smells too much like tent!". He wasn't joking so I assured him we would 'fix' the problem. Cue Nikki, my right-hand woman, and her trusty Febreze!
Well done, Nikki! I'll have to see if I can smell 'eau de tent' next time I'm in one of your tents! Thank you so much for speaking to me today and hopefully we'll see you in the field at Wilderness!
If you want to find out more about Laura and her team's tents and follow their journey across the festival fields this year, visit their website www.portobellotents.com.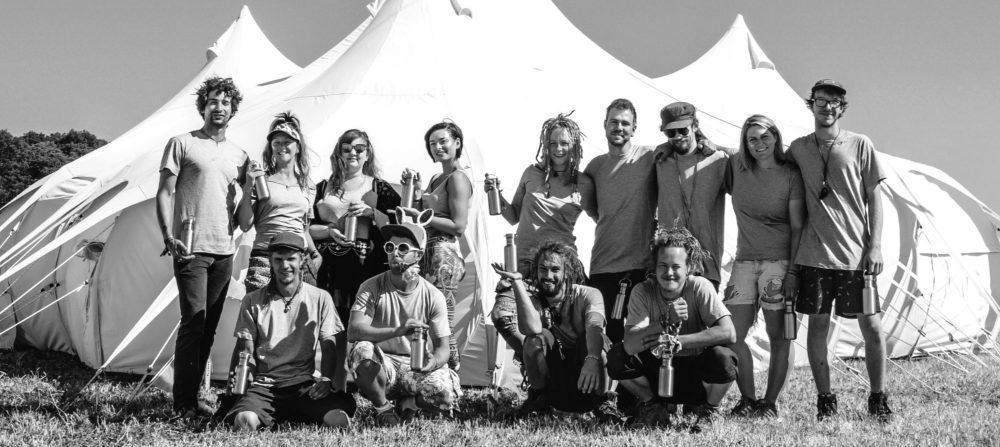 The Portobello Tent crew with their reusable Stainless Steel Bottles (Photo credit: portobellotents.com)
What are your top eco-friendly tips for glamping?
The Jolly Turtle supplies eco-friendly bespoke and pre-packed kits for events, travel, hospitality, and lifestyle, offering a simple and convenient way to shop for all your plastic-free essentials. 
There's nothing quite like entering a beautifully-decorated tent containing a proper bed dressed with sumptious bedding, all set up so you can literally drop your bags and get out in the field.