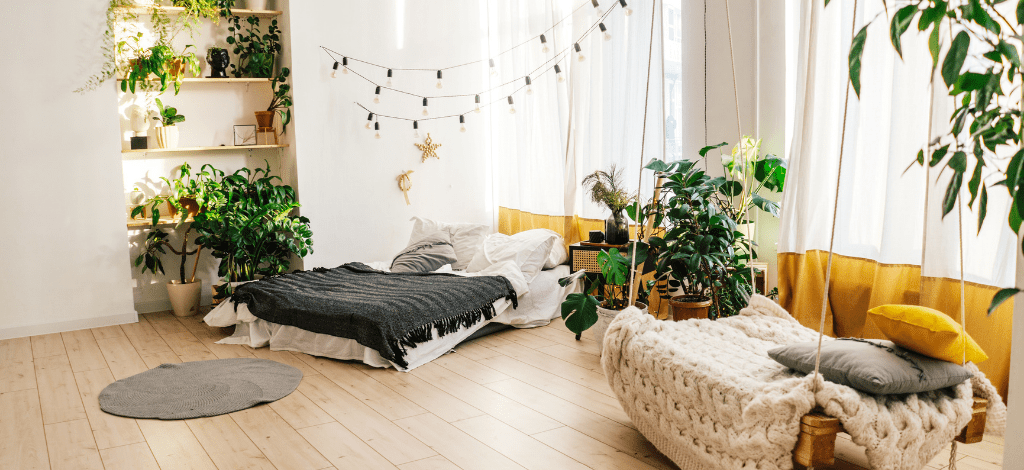 GUEST POST by Alison Hughes – Coast Road Furniture
Post-COP26, we're all looking for ways to be a little more eco-friendly in our daily lives. Here, Alison Hughes, Interiors Director at Coast Road Furniture, shares her tips for making more sustainable choices with your home interiors.
With climate change firmly in our minds, we're all trying to do our bit to protect the environment. In fact, 85% of consumers adopted at least one lifestyle change to be more sustainable last year, according to a survey from Deloitte. While you may be among the 61% of people who have cut down on single use plastics, there may be even more areas of your home that could benefit from an eco-boost.
Your furnishing choices can have a big impact on the environment. Luckily, you can easily adapt your home interiors to match your sustainable lifestyle by following my tips below.
Choose high quality pieces
One of the biggest problems we have with interiors here in the UK is the rise of fast furniture. These are pieces that are made cheaply to adhere to fleeting interiors trends. And, when they break or go out of style, they're sent to landfill. Approximately 22 million pieces of furniture are thrown away in the UK annually, according to research from the North London Waste Authority. But one way we can reduce this waste is by investing in high quality pieces made to last. 
Choose furniture that is well made, such as those crafted from solid wood and leather, along with soft furnishings made from durable fabrics and with long lasting, supportive foam fillings. These pieces also tend to have a much more timeless style that you can enjoy in your home for years to come. As a result, your furniture will last much longer than fast interiors pieces, and you'll be sending a lot less to landfill.
Buy British made products
One of the best ways to choose more sustainable options is by shopping with British manufacturers and suppliers. In fact, 91% of UK businesses say that buying British is important, with 73% agreeing that buying more British made products could help the UK battle climate change (The Manufacturer).
Not only will you be supporting local businesses this way, but you'll also be reducing your carbon footprint. Furniture made in the UK has much less distance to travel to get to your home compared to pieces made abroad, which means fewer carbon emissions are released as a result of the transportation process.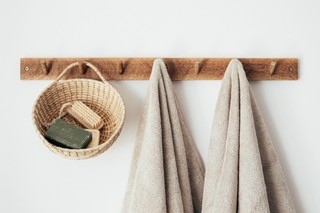 Choose eco-friendly materials 
One key way to ensure you're choosing sustainable furnishings is by taking a look at the materials they're made from. Natural materials, such as wood, stone, wool, and cotton are all much kinder to the environment than man-made fabrics. They're often much more durable too, so you can reduce the amount of furniture you're throwing away.
If you're looking for a more animal friendly alternative to leather, there are a range of vegan and faux leathers on the market, and many furniture manufacturers offer these as an option. These can be made to look and feel just the same as real leather, all without using any animal products.
Decorate with plants
Houseplants have seen a revival in recent years, and for good reason. Not only are they an eco-friendly way to brighten up your space, but they can also help boost the quality of the air inside your home.
Indoor plants have been shown to help stabilise and increase the diversity of beneficial microbes in built environments, according to a study published in Frontiers in Microbiology, which can help counteract the loss of microbial biodiversity in urban areas. These microbes are both beneficial to our health and to the environment and can help maintain the planet's natural balance. So, decorating with plants could do more than just add a touch of greenery to your home, but could also help out the environment too.
Conclusion
In the wake of COP26, we're all trying to do our bit to be a little more sustainable. By following the tips in this guide, you can make more conscious decisions and choose planet friendly furnishings that match your sustainable lifestyle. For more tips and advice for living a more conscious lifestyle, be sure to take a look at The Jolly Turtle's eco-friendly living blog.
This article was written by Alison Hughes of Coast Furniture.
Are you looking for some top tricks to hold a 'spooktastic' eco-friendly Halloween celebration without polluting the planet?
The problem
It's that time of year when the supermarket aisles are lined with cheap plastic-manufactured and plastic-wrapped sweets, costumes and decorations. Unfortunately, most of these will get used once and then thrown away, only to end up in landfill or polluting our oceans and beaches. From there, the plastic breaks down over hundreds of years but never truly goes away. It looks unsightly, kills wildlife, and costs billions in clean-up efforts.
The solution
However, it's easy to get into the spirit of Halloween without creating unnecessary waste. It just takes a bit of thought and organizing.
Halloween will look and feel very different this year to a lot of people due to Covid-19. For a start, it's unlikely that trick or treating will be considered safe by national governments.
But it's still possible to have a 'fangtastic' time and keep safe from large group gatherings. Whether you're planning to hold a virtual costume party, family treasure hunt, or host a spooky movie night at home, this year is a great opportunity to get creative and have fun whilst being mindful of waste.
Are you ready to ditch the synthetic for the sustainable? We give you our top tips and tricks to create an eco-friendly Halloween celebration.
1. Reuse costumes
Halloween costumes are estimated to generate over 2,000 tonnes of plastic waste every year in the UK. That's equivalent to over 25,000 standard coffins. Eek!
There are so many how-to guides online to help you create a DIY costume and you don't have to be an expert seamstress to give it a go. If possible, try and reuse what you already have. Can you upcycle that old shirt that's been through the wash too many times? Rip it, throw it in dirt, or throw pomegranate juice at it. Just a few ideas to transform an outfit fit for a zombie!
If you're still stuck for ideas using what you already have, think about scouring the charity shops, swap costumes with a friend, or rent a costume instead.
We wrote a whole blog post about eco-friendly costume ideas so check it out for some inspo.
Fun Fact: Halloween costumes were traditionally worn by ancient Celts as a disguise in case they encountered ghosts when leaving the house. This is because they believed ghosts returned to Earth on Halloween.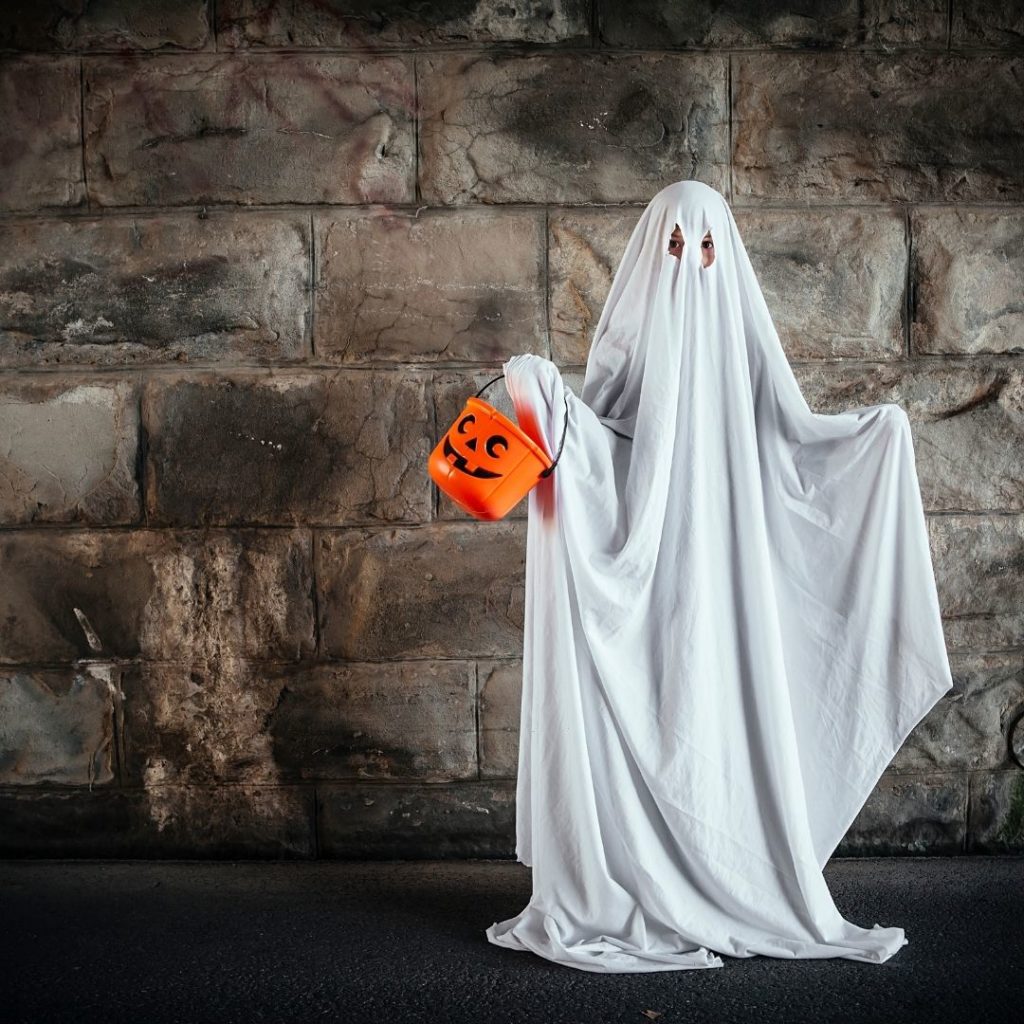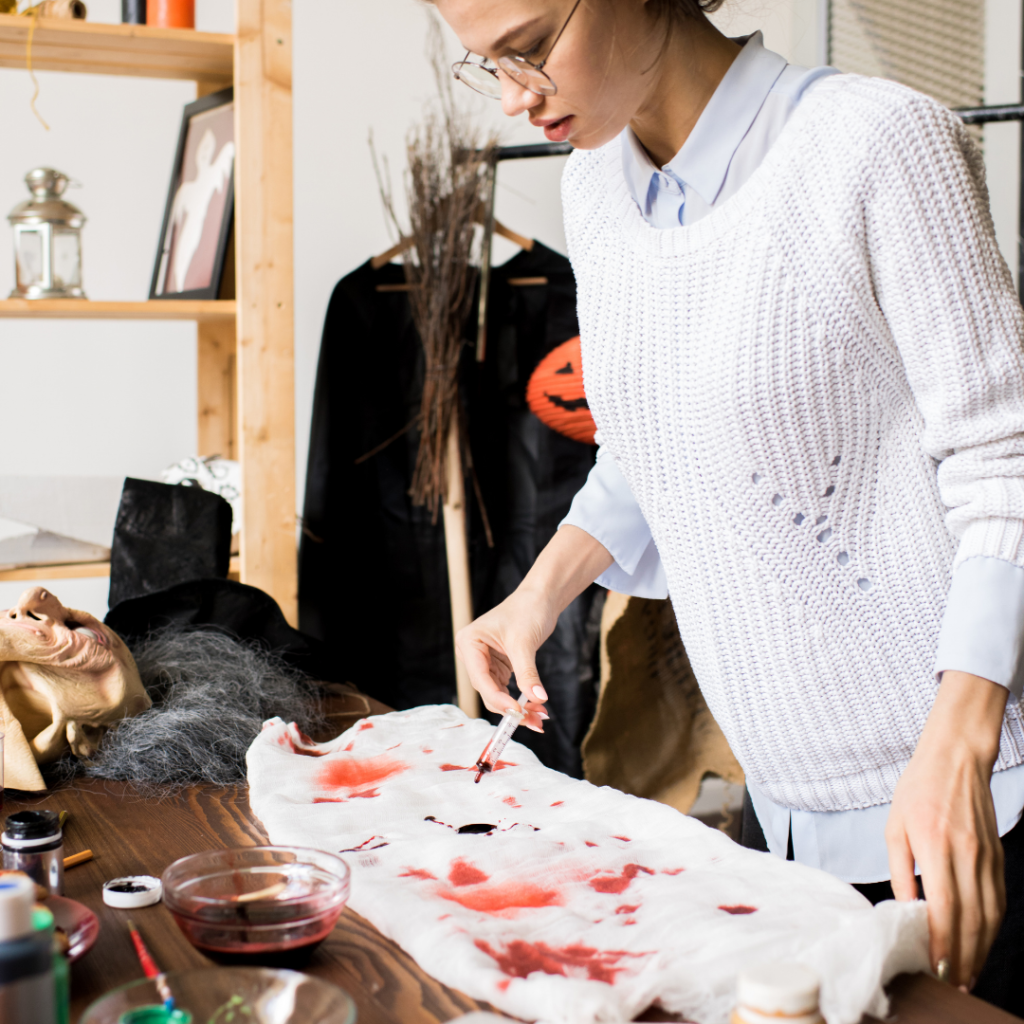 2. Pick your pumpkin
Who wouldn't prefer to pick their own pumpkin from a pumpkin farm rather than from the local supermarket? Choosing a pumpkin is all part of the build-up to Halloween and by going local, kids will become educated on how pumpkins are grown. Plus, they are cheaper and fresher in comparison to shops and you know your money will go straight into the pockets of the farmer.
So, grab a wheelbarrow and head out to your local pumpkin farm this year for a day out to remember.
Fun Fact: The UK's largest pick-your-own pumpkin farm is in Newark and has more than 100,000 visitors every year. It's run by a 20-year old who started growing pumpkins as a hobby when he was 13.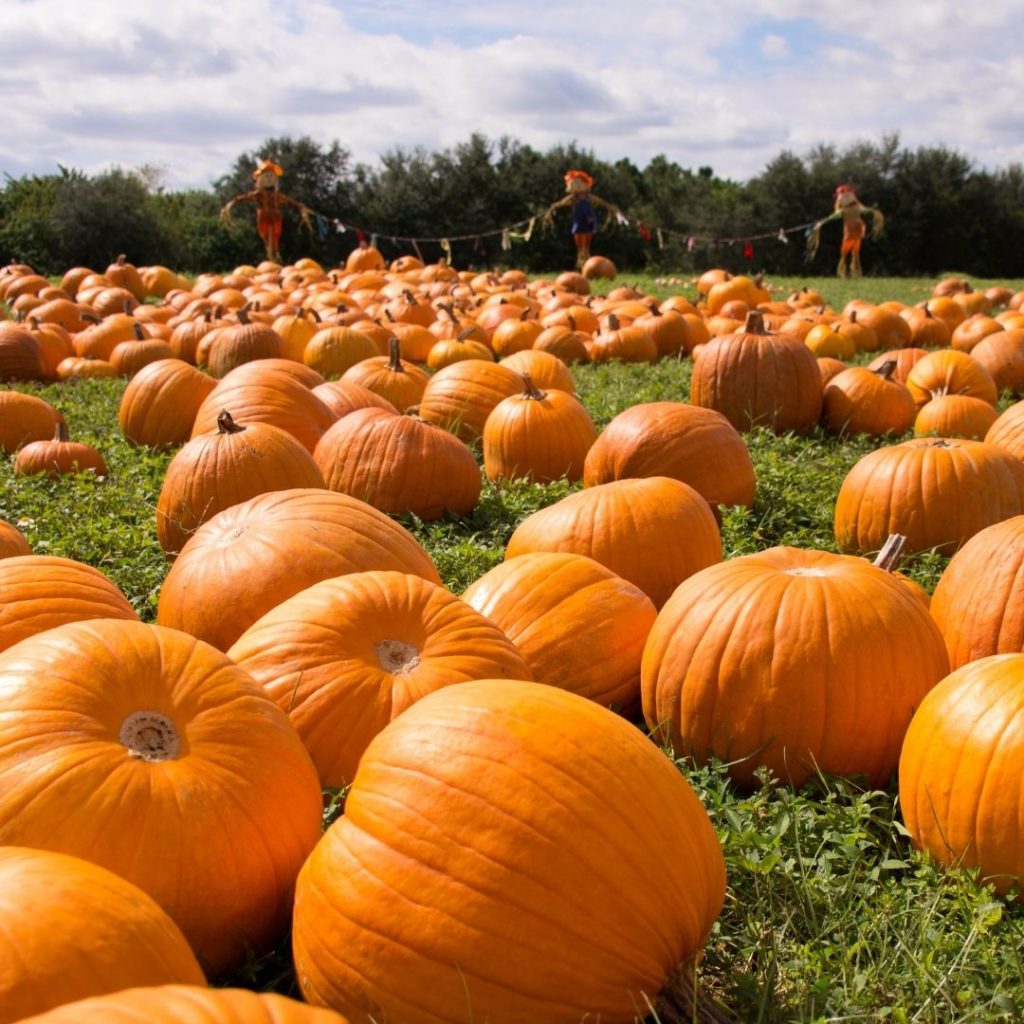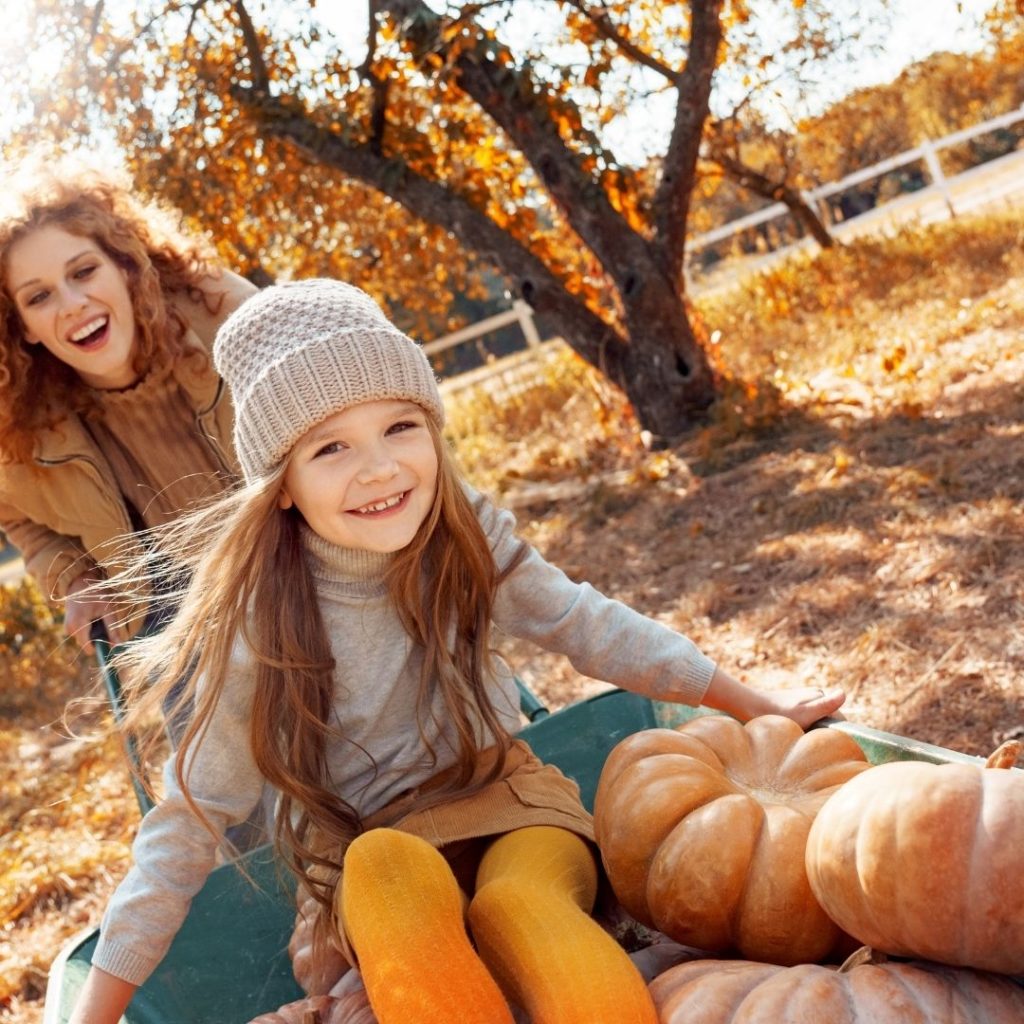 3. Use pumpkin flesh and seeds
If you've ever spent hours carving a pumpkin work of art, you'll know that it takes a lot of effort to scrape out all that pumpkin flesh and seeds from the inside. It's a messy job, but it's not all waste.
The pulp can be used to make a pumpkin puree or mash. My personal favourite is spiced pumpkin soup, which is perfect for this time of year!
Pumpkin seeds can be reused in several ways. If they're big enough, large seeds can be replanted to grow into new pumpkins. Smaller seeds can be eaten – just rinse, dry, oil, season and roast for a nutritious tasty snack or sprinkle on top of salads. Check out the BBC's Good Food guide for a list of pumpkin recipes.
Once you've finished with your pumpkin decoration, it can go straight into your compost bin or be used to feed wildlife.
Fun Fact: People once believed that freckles could be removed by spreading a pumpkin paste over the skin!
4. Use plastic-free makeup and glitter
Halloween costumes and make-up go hand in hand. What's an outfit without a gory face to match in dripping 'bloody' paint or bejewelled skeleton eyes?
Yet so many cosmetic glitters on the market contain microplastics. These are millions of tiny plastic pieces which pollute our seas and our wildlife, creating long-lasting damage. Similarly, most cosmetic paints contain heavy metals and other toxic chemicals that can irritate the skin. Not to mention that they are often packaged in plastic packaging.
But it's not all doom and gloom as there are so many eco-friendly and creative ways to up your Halloween look with paint and glitter.
Use a natural and vegan face paint made from fair trade organic ingredients. You can get some amazing colourful eyeshadow palettes made by ethical brands.
For glitter, make sure it's eco-friendly, such as our bio-glitter, which is made from biodegradable film sourced from sustainable tree plantations. All of our glitter is packaged in biodegradable pouches for the ultimate eco sparkly solution.
We're giving readers of our blog 25% off our bio-glitter and Aloe Vera glitter fix range until 31st October with discount code SPOOKY25. Check out our Poison Ivy and Red Voodoo, which we created especially for Halloween.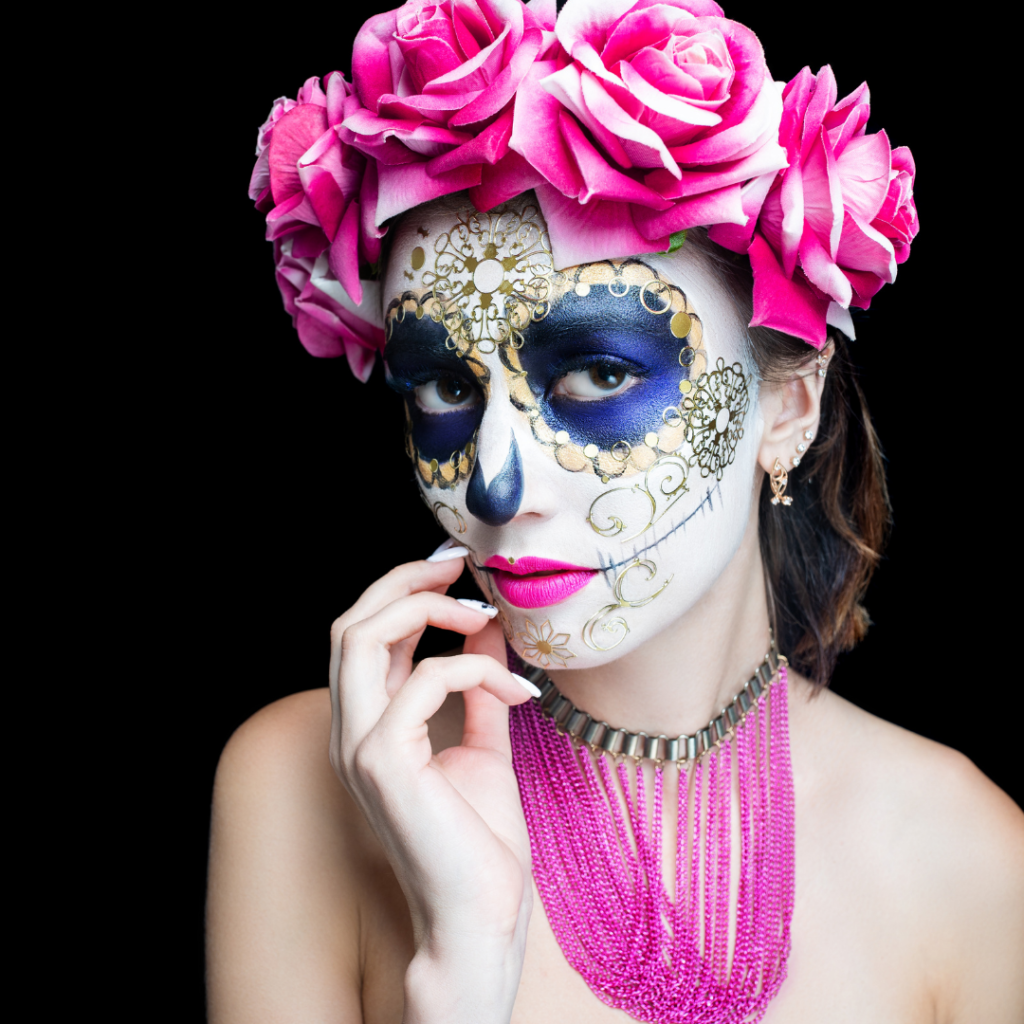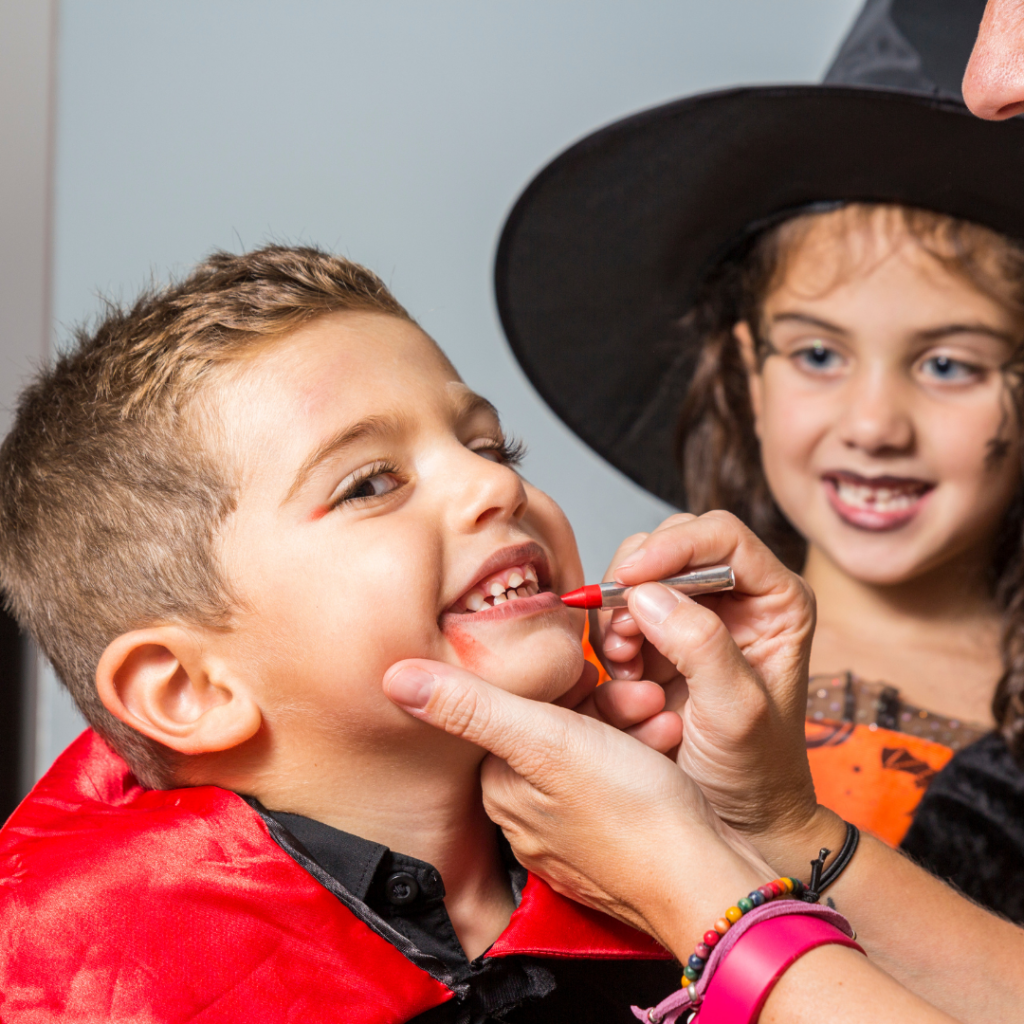 ---
Will you be celebrating Halloween this year? Do you have any other tips to create an eco-friendly Halloween experience?
The Jolly Turtle supplies eco-friendly bespoke and pre-packed kits for events, travel, hospitality, and lifestyle, offering a simple and convenient way to shop for all your plastic-free essentials.
When it comes to sun protection, natural eco-friendly sunscreen should be everyone's first choice.
Whether you'll be out in the UK sunshine (camping, anyone?) or going somewhere hot, you'll definitely want to think about slapping on some sunscreen to protect your vulnerable skin from prolonged exposure to that beautiful yet dangerous ball of fire in the sky.
But which brand do you use and do you know exactly what you're putting into your body and into the environment?
If you're not using a natural eco-friendly sunscreen like Shade Sunscreen SPF25, here are 6 great reasons why you should be.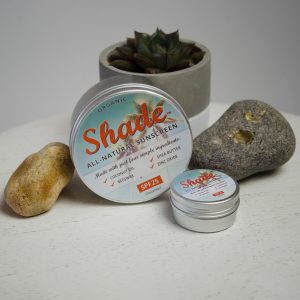 Reason 1 – Natural ingredients won't harm your skin
The most common ingredients in chemical sunscreens are…unsurprisingly, chemicals. Chemical-based sunscreens are known to absorb the sun's harmful UV rays, creating a chemical reaction that disperses those rays through your body and into the air. That means, chemicals (up to 60% of them) are absorbed into your skin and bloodstream, which can cause health issues such as allergies, eczema and even infertility. Because children's sunscreens have high SPF ratings, they contain higher amounts of chemicals being absorbed into their skins.
Artificial fragrances added to sunscreens can also cause reactions such as reddened skin and watery eyes, especially for those prone to allergies and asthma. You might be surprised to learn that these fragrances can also enter a woman's milk if breastfeeding, which I'm pretty sure is really bad for babies!
However, unscented and natural eco-friendly sunscreens like Shade actually reflect the sun's rays, acting like a mirror on the skin, therefore protecting the skin from getting those rays into your body. And because the ingredients are non-toxic, they won't harm your skin at all.
Reason 2 – Natural ingredients won't harm the environment
Just as the chemicals in chemical sunscreens are absorbed into the body and dispersed into the air, the same happens in water, except the particles are dispersed into the sea instead. This can cause incredible damage to coral reefs and contribute to the destruction of these beautiful underwater habitats and the marine life that relies on them.
Did you know that Hawaii became the first US state this year to ban the sale of sunscreens containing oxybenzone andoctinoxate, which some scientists claim contribute to coral bleaching? One study found that about 12,000 metric tonnes of sunscreen have been washed into coral reefs. That's more than The Eiffel Tower weighs!
Natural eco-friendly sunscreens like Shade contain minerals and ingredients that won't harm the environment.
Reason 3 – They're immediately effective
Chemical sunscreens take up to 20 minutes before they become effective and start protecting you from the sun. Not ideal, particularly if you want to protect your children's delicate, young skin straightaway when out in the hot sun.
Natural sunscreens, on the other hand, get to work immediately, forming an instant barrier between your skin and the sun.
Reason 4 – Shade is not packaged in plastic
Most conventional sunscreens, and even a lot of natural sunscreens, are packaged in plastic bottles and if you've been watching the news lately or 'Blue Planet', you'll know just how damaging plastic is to the environment. Plastic sticks around forever and if it's not in landfill, it contaminates our water systems, damaging our precious oceans and wildlife.
Shade is packaged in a recyclable aluminium tin so there's absolutely no harm to the environment. Going plastic-free is definitely the way forward!
Reason 5 – I can pronounce the ingredients
Personally, I prefer to use products where I can pronounce the ingredients and I know what I'm putting onto my skin and into my body. With ingredients like cinoxate, octyl methoxycinnamate, octorylene, and 4-methylbenzylidene camphor (the list goes on but you get the gist), unless you're a scientist, you probably won't know what these are and why they're in your sunscreen.
Shade Sunscreen contains just four ingredients – coconut oil, beeswax, shea butter, and zinc oxide (the first two being organic). The zinc oxide acts as a sunblock, reflecting the light from the sun and bouncing it away from your skin. Know what you're putting into your body!
Reason 6 – The travel-sized tin is tiny
The 15ml Shade Sunscreen is less than 4cm in diameter and only 2cm high so perfect for a weekend away or day down at the park. It will fit into a pocket and a small handbag, and only takes up a tiny amount of space in an airport security bag for liquids when flying.
So, which sunscreen will you be choosing this summer? If you love your precious skin and environment, choose an effective and safe product like Shade Sunscreen.
And don't forget to follow other safety measures when in the sun – cover your body and avoid direct sunlight when the sun is at its strongest between 11am and 3pm.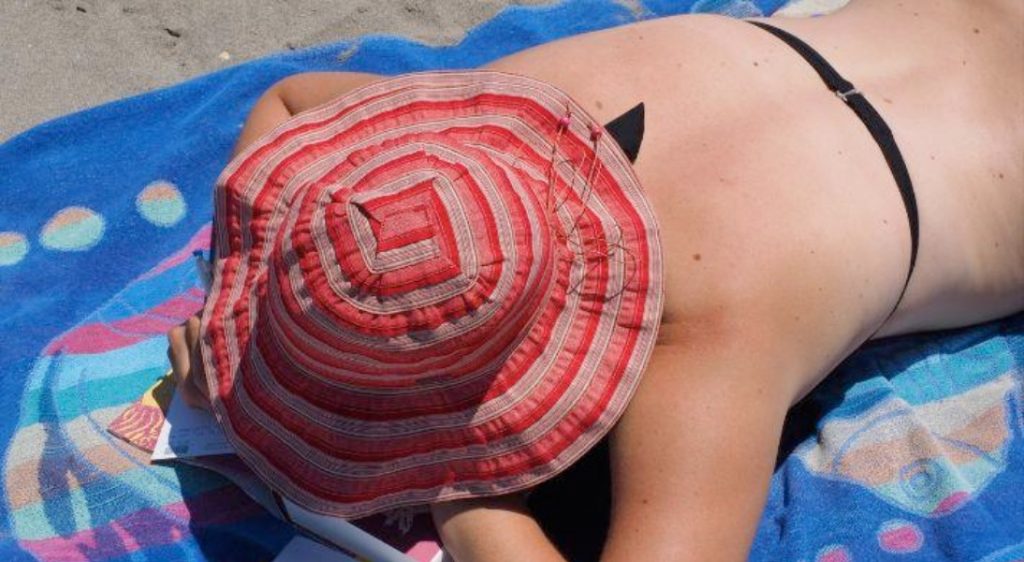 The Jolly Turtle provides quality bespoke and pre-packed festival kits to festival-goers, offering a simple and convenient way to shop for all your quality festival essentials.
Plastic-free periods and reusable menstrual cups have had a lot of media attention recently, and rightly so. Millions of females around the world are unable to afford sanitary products (including 10% of teenage girls in the UK). Therefore, period poverty is a significant global issue. And there's also the environmental impact.