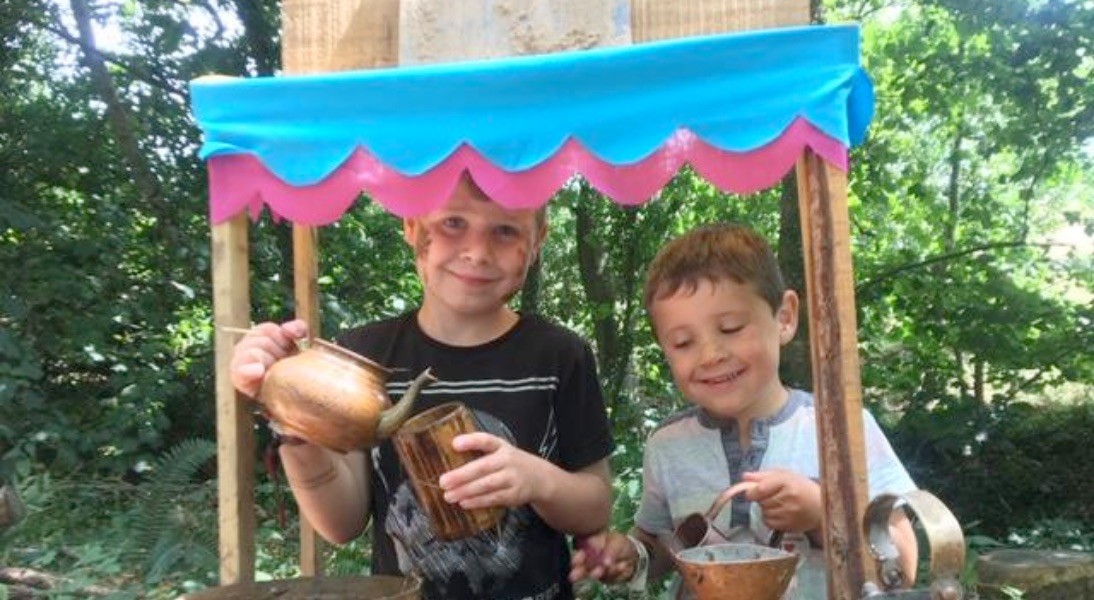 Cooking in the mud kitchen at Camp Bestival
By Jodie Boyd (Interview with Thomas, aged 5)
Every year, we get lots of parents asking us what they need to take to a festival with kids. Yes, the list is long but it's important to be well prepared as having all the essentials can make all the difference to your experience. But you don't have to do it military-style. It is a festival after all, so going with the flow and embracing a bit of dirt is all part of the fun.
As parents of two under-8s, we've been to a fair few festivals with our kids over the years and have finally got it right. So what better way to put together a list of festival essentials than ask one of the kids?
We asked 5-year-old Thomas what families should take to a festival and how we should group the items to make it easy for people to use, as well as being eco-friendly as possible. It's definitely not exhaustive (my lists are at least 3 pages long!) and I've played around with the description a bit but other than that, these are all Thomas' suggestions, so take note parents!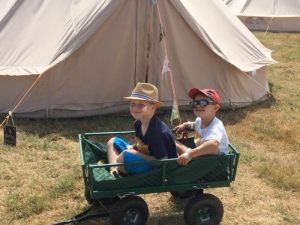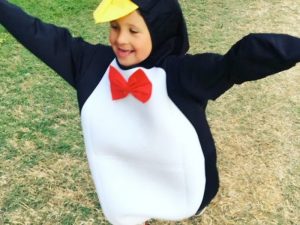 All set for a day out in the trolley; Thomas doing his 'Happy Feet' impression at Camp Bestival last year
THE most important thing to take to a festival
Tickets or we will be very sad if we can't get in 🙁
Camping
Tent – something big enough to run around in and definitely one that we can take home, as it's such a waste to see all those tents left behind after a festival has finished.
Sleeping bags – but don't zip us in too tight otherwise it's difficult to get out at night if we need a wee!
Torches and lanterns – my brother and I like to have our own torches and lead the way back to the tent at night time like midnight spies (if we're not already asleep). Plenty of lanterns (and back up batteries) for inside the tent so we can see what what we're doing when getting dressed in our PJs or going for a wee in the middle of the night.
Chairs – we love to have our own camping chairs so one for everybody to save arguments!
Teddy to sleep with – keep it tucked up inside my sleeping bag so I don't wake everybody up in a panic if I lose it in the night!
Blankets – to keep us warm at night when we're in the trolley and when sleeping.
Out and about
Trolley – essential for us kids if the grown ups want to stay out later. Layer it with blankets and decorate with fairy lights and we think it's the best thing ever!
Fancy dress and spare clothes – we love to dress up like most people at festivals so lots of outfits, and spare clothes for when we get very wet and muddy.
Coat and poncho – We're in England and it can rain at any time. Ponchos are great for lining the trolley and for when it gets really wet but we only use biodegradable as plastic ponchos are really bad for the environment.
Wellies – I love jumping in muddy puddles! And it's a festival so I will probably need them.
Hats – woolly one for cold evening, sunhat for daytime to stop our heads getting sunburnt.
Entertainment
Glitter – biodegradable only but lots of glitter, as we love to sparkle!
Speakers – music for when we're getting ready at the campsite.
Toys – some small toys that keep us occupied when mummy and daddy are busy getting things ready or want to relax with a beer or wine.
Colouring and reading books
Toiletries
Wet wipes – we love to get mucky but we only use compostable wipes that go back into the earth as they're not bad for the environment like plastic ones.
Towels – for the shower, of course! 
Makeup – for mummy and so we can steal some eyeliner for drawing spiders on our cheeks!
Food and cooking
Pans and cooking equipment – a camping stove for cooking our pre-cooked meals.
Food – snacks for on the go and when we get hangry and milk for breakfast, as we need to eat as soon as we wake up. Basically, we are always hungry.
Coolbox – we use one that keeps our food and drinks cold with ice and that doesn't need to be plugged in.
Juice – it's a festival so treats please 🙂 but not cartons with straws or Fruit Shoots as they are made from plastic.
Drinks for grown ups – check the amount of alcohol you can take in and don't take glass, as it's not allowed at festivals.
Reusable cups – plastic is bad so we take our own to fill at the bar.
Reusable water bottle – bottled water costs a lot of money that you could be using to buy me extra rides on the fair. And they're very bad for the environment. We love our stainless steel bottles that keep our drinks cold and water is free!
Cake – if it's somebody's birthday (obvs!)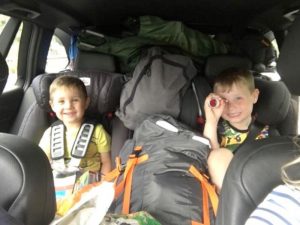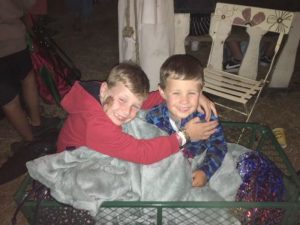 All packed and ready to go; Trolley nights with blankets
The Jolly Turtle supplies eco-friendly bespoke and pre-packed festival kits to festival-goers, offering a simple and convenient way to shop for all your plastic-free festival essentials.