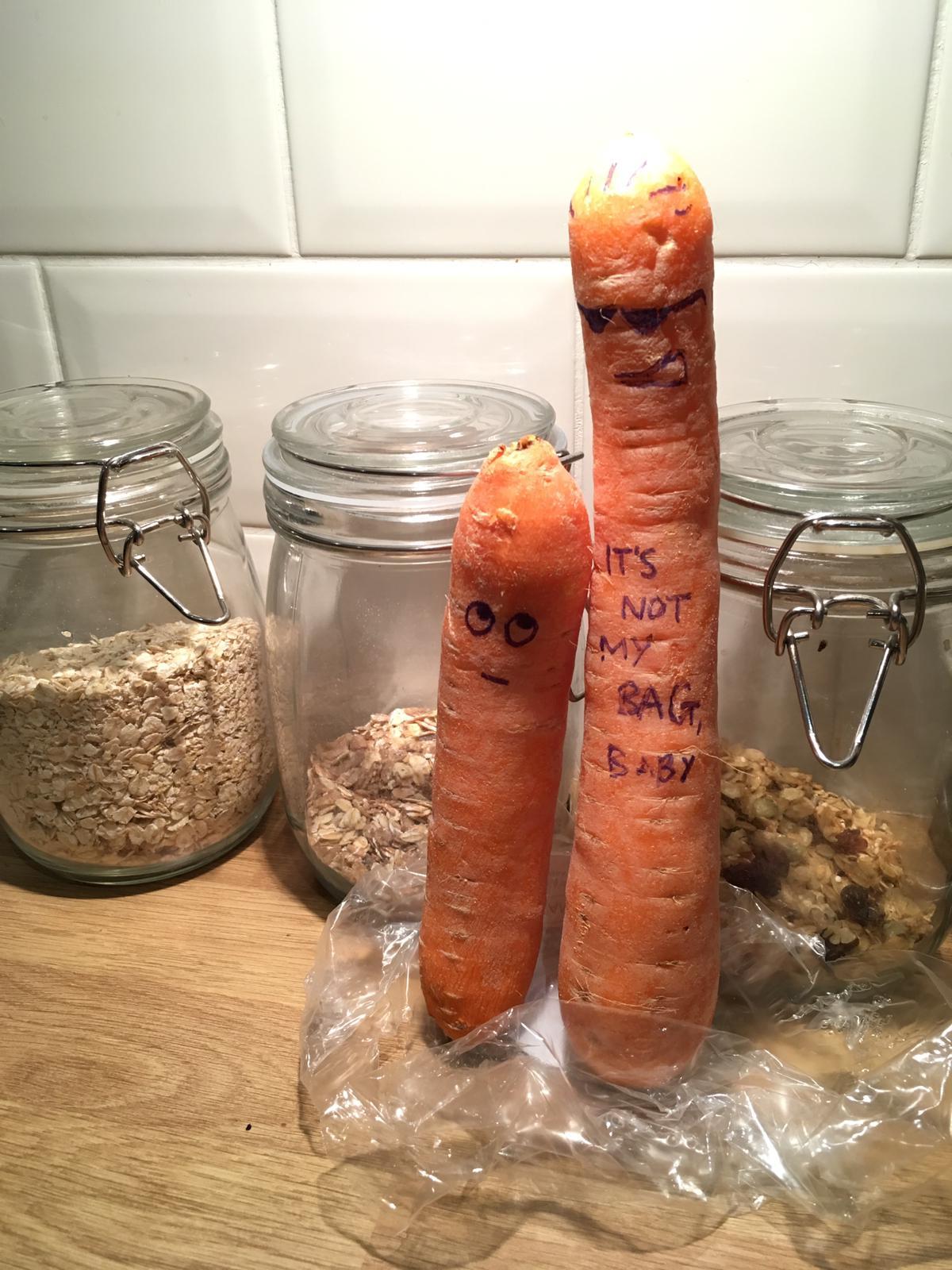 By Jodie Boyd 
It's always an inspiration to talk to like-minded people about plastic pollution and share ideas and tips about how we can reduce our plastic footprint. Meet Steph, who runs the awesome blog, Unplasticky, a source of practical and useful tips that have definitely helped me become more sustainable in my everyday living.
I invited Steph to talk about her journey to becoming plastic-free and what inspired her to start her blog so was thrilled when she agreed to answer my questions and share her wisdom with Pic 'n' Mix Festival Kit readers. Enjoy!
1. What is Unplasticky and what inspired you to start it?
Unplasticky is a little blog aiming to provide a frank and honest account of the trials and tribulations of our attempt at reducing single-use plastic. I'd consider us to be a bang-average busy working family with young children but I would hope my meanderings could apply to anyone as I've tried to keep it as practically-minded as possible. 
It was actually my husband's idea to record our journey as a blog, and I'm glad I did. It can feel like a lonely journey, swimming against the tide of disposable consumerism, so writing can be therapeutic in its own funny way. Unfortunately, as I'm too skint to pay for a proper shiny website, it pops up with WordPress's very own strange adverts in between the text. Sorry about that. 
2. We all have to start somewhere! So, how is your attempt at being plastic-free going so far?
We've been at it for just over a year now, and it's amazing how much we've learnt to do without. We started with just a few basic swaps – refusing straws, keeping reusable shopping bags literally everywhere (work bag, car, house) for unplanned shop stops and remembering to bring a reusable water bottle on the go. We ran out of clingfilm one day and I didn't replace it. Signed up to a milkman. Dug a hole in the garden for a doggy Dooley. Started taking real notice of what could be bought 'loose' in the shops (and what couldn't). 
We've reached the point now where we're definitely not zero-plastic, but we're pretty close. Our general waste wheelie bin is now less than a quarter full every fortnight – whereas a few years ago it would have been up near the top.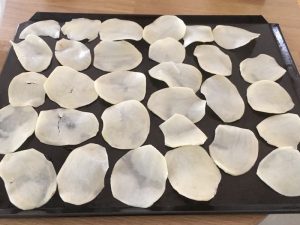 DIY homemade crisps – yum!
3. That's amazing progress! What's the easiest way somebody can make a change who doesn't know where to start?
It can certainly feel daunting with all the scary stories in the media at the moment – I know a lot of people would like to make changes but feel helpless. Start with three simple things. Perhaps refusing straws when out and about (including refusing to buy carton drinks with straws), keeping a reusable bottle by your keys so you bring it with you as you leave the house, putting baking potatoes into your supermarket trolley loose instead of picking up a bagful. It takes a while but habits change, then you don't even have to think about it. Each month, try to add a few more things… 
Actually, another excellent way to get on the bandwagon is to search for and join some of the very many, and very helpful Facebook groups such as Plastic-less Living, Living with Less Plastic, and Plastic is Rubbish to name a few. They are full of hardy and knowledgeable zero-wasters with lots of useful tips and pointers.
The fact that you're reading this post on the The Jolly Turtle blog will mean you have access to some great plastic-free and eco-friendly products already!
4. Aw, thanks! Your kids are still very young so how much do you think they really understand about plastic pollution?
My daughter is seven and very aware of the impact on the environment. After all, she will only be thirty-eight when it is anticipated that there will be more plastic in the sea than fish. She will be eighteen when the scientists from the Intergovernmental Panel on Climate Change (IPCC) experts expect that irreversible damage will be done to the planet which will end civilisation as we know it. 
According to the soil association, one third of the world's arable soils have been degraded through intensive agriculture and are no longer able to support crop growth. Scientists also predict that by the time my daughter is thirty-eight, half of the world's population may no longer have access to safe fresh water. There's no escaping that there is urgent work to be done to protect our children's futures. My son is three and couldn't care less. 
5. Some scary stats there! Are there any plastic-free products you find it difficult to find or think should be more accessible to consumers?
Cheese! Even the cheese behind the counters is shrink wrapped, so taking your own container is futile. But we should all be eating less cheese anyway for the sake of climate change to be fair. 
Crisps are another – Two Farmers sell crisps in compostable packaging but are quite pricey. I have learnt how to make crisps at home from nothing but a potato, a bit of oil and some salt. I'm sure as a nation we eat too many crisps anyway hence why we're a nation of fatties.
I can't understand why white sugar can come in paper but brown sugar can't.
I think if you search hard enough you can find most things without plastic. What I find more heartbreaking is all the endless supply of ludicrously over-packaged, convenience products like ready-cut carrots in a bag. I mean, just cut your carrots!
6. I hear you. Moving over to my favourite topic, are you going to any festivals this year?
We're hoping to go to End of the Road festival this August – it's suitably alternative and full of weird bands that we like.
7. What do you think festivals can do more of to create an environmentally-friendly festival experience for festival goers?
Firstly, stop people leaving their tents behind! I know some go to charity but most go to landfill and that's ludicrous. Keep your tent, RE-USE it, and pay some money towards refugee charities. 
Secondly, ban as much disposable stuff as is reasonably practical, and have lots of water refill points everywhere. I think lots of festivals are ahead of the game with all of this though and leading the way for major events.
8. What festival essentials will you be taking with you?
Reusable flannels 
Reusable coffee cups
Bar of shampoo soap in a lidded tin
Home-made bread
Home made flap-jacks and snacks
Loose fruit for snacks
Cans of beer and cider
Our tent and waterproofs and wellies are not plastic-free but very much reusable!
That's a great list and I'm so pleased to see so many of our plastic-free products in there! Thank you so much for speaking to me today, good luck with your continuing journey to being plastic-free, and have an amazing time at the festivals you're going to this year!
If you want to follow Steph's journey and pick up some great tips on becoming plastic-free, check out her blog at https://unplasticky.wordpress.com/ and follow the Unplasticky Facebook page.
Do you think being un-plasticky can be fantasticky?