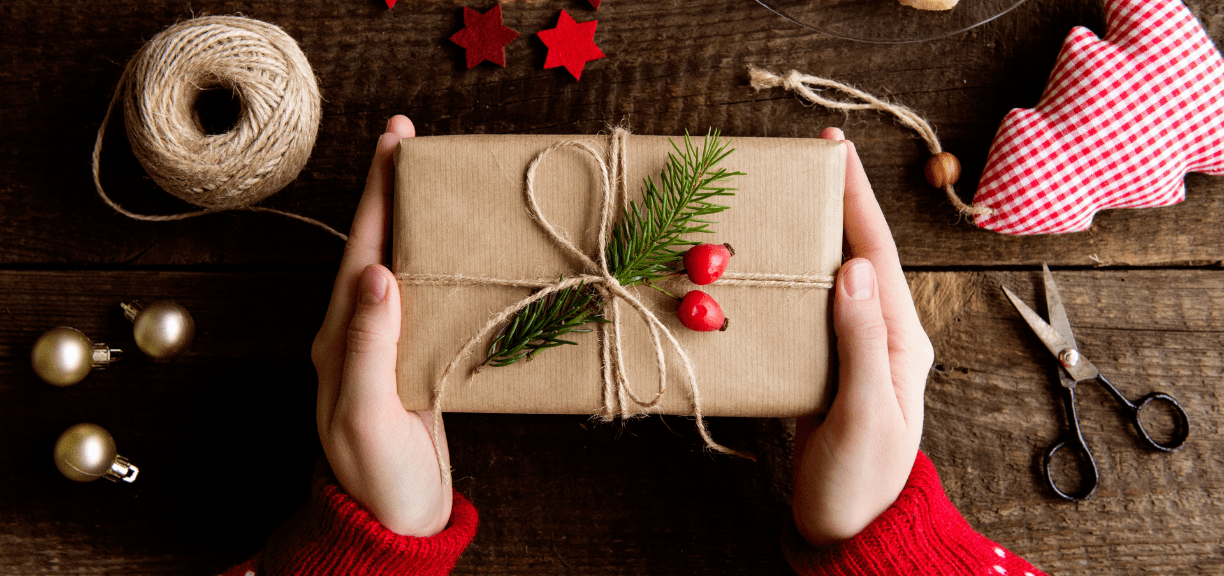 If you're looking for tips to have an eco-friendly Christmas, look no further than our eco Christmas giving guide. From planning your gifts to buying and wrapping them, there are many opportunities to wow your family and friends with affordable, fabulous planet-positive gifts.
Firstly, let's start with planning your gift.
Planning your gift
According to a Finder survey, 50% of British people receive unwanted gifts at Christmas, worth about £5 billion! So, don't be tempted to buy gimmicky or cheap, low-quality presents. Equally, don't overspend just because you think you need to spend a certain amount. After all, a gift doesn't have to cost a lot to mean a lot. Therefore, find out what your family and friends want, and if you're stuck for ideas, consider buying a voucher.
Show your love and appreciation with a homemade gift. If you can make something yourself, you'll probably save money. Check out this DIY Christmas guide for some inspiration.
If you're not a creative type or short on time, buying something handmade or customized by another business is equally thoughtful. Try Not On The High Street or Etsy.
Similarly, a gift experience is an excellent alternative to a physical gift, especially after this year. Many people will be eager to get out and experience things in 2021 after spending most of 2020 in lockdown. For instance, think festival tickets, a glamping package, wine tasting, helicopter ride, spa day. The list is endless!
How about giving back your time to do something unique that will be appreciated? Use this gift voucher template to present your gift.
Make a regular or one-off donation to a charity that is close to your gift recipient's heart.
Can you gift something preloved? After all, vintage and upcycled is well on trend and becoming increasingly popular. Check out Etsy Secondhand for some inspiration or your local charity shops. For something exceptional, 1st Dibs offers a range of premium vintage items.
Christmas is a time of year when plastic pollution skyrockets, producing over 125,000 tonnes of waste sent to landfill. Therefore, search for Christmas gifts that aren't made from virgin single-use plastic or packaged in plastic, and you'll make a positive difference.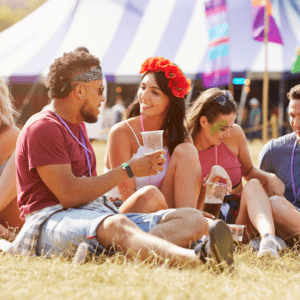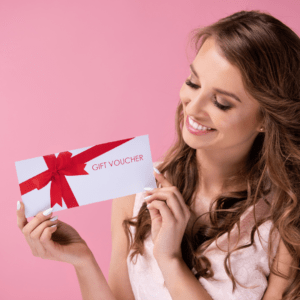 Once you've chosen your gift, it's time to think about where and how you buy it (if you're not making it yourself).
Buying your gift
Buy Christmas gifts from small, independent businesses that need your support more than ever this year. Avoid big corporations with offshore tax-havens and those that don't pay the proper amount of tax.
Gift with purpose and buy from sustainable businesses that have a goal beyond making profits. Many companies are doing great things for their communities and making a real difference to people and the planet.
Find out whether the gift is ethical. Consider the environmental impact from manufacturing to shipping and working practices.
Ask the seller to limit packaging and not use plastic when wrapping or shipping. You'll find that most are happy to do this.
Buy as many products as possible in one shipment to reduce carbon emissions and packaging and shipping costs.
Reuse the packaging you receive.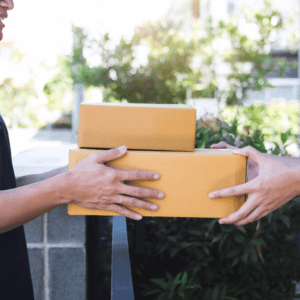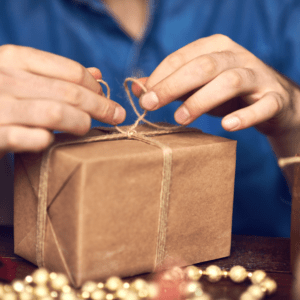 And finally, the fun part – wrapping and giving your gift. Whether you want to go understated or up your presentation game, there are plenty of eco-friendly ways to gift wrap.
Giving your gift
Avoid using paper with a shiny surface or glitter, as it's likely to contain plastic. Reusable or recyclable paper such as brown kraft paper can look amazing if you add some twine or eco-friendly ribbon. Even better, use reusable fabric to wrap your gifts and wow those receiving them.
Use natural (and free) foliage collected from outdoors or items in your home to tie to your gifts, such as berries, spruce twigs, or dried orange slices.
Finally, accompany your gift with a seeded greeting card and turn your sentiment into something beautiful and long-lasting.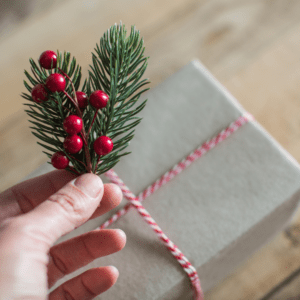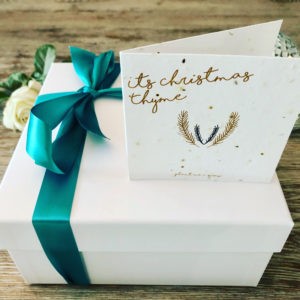 ---
Eco Christmas giving ideas we love:
Our Eco Christmas Pamper Gift Box would make the perfect treat for someone special who deserves pampering. All the products are 100% ethical, vegan, and plastic-free and come packaged in a premium reusable box wrapped in a beautiful ribbon made from recycled plastic bottles.
Adopt an animal with WWF – an excellent gift for kids. They'll get a soft cuddly toy and a personalized certificate. In addition, they'll receive regular updates from the WWF on the endangered animal they adopted and how their money helps protect the planet.
For sustainable fashion, try True Vintage, which saves beautiful clothes from being sent to landfill sites and ships them out using eco-friendly packaging.
Give the gift of climate action and plant trees with Ecologi, for instance.
David Attenborough's new book A Life On Our Planet: My Witness Statement and Vision for the Future would make a fantastic gift for book-loving eco-warriors.
In conclusion, there are so many ways to do sustainable Christmas gifting. Just make a few changes and you'll make a difference.
---
If you found our Eco Christmas giving guide useful, check out some of our other eco-friendly guides, including:
The Jolly Turtle supplies eco-friendly bespoke and pre-packed kits for events, travel, hospitality, and lifestyle, offering a simple and convenient way to shop for all your plastic-free essentials.