With hospitality now open in the UK, the buzzword on many holidaymakers' lips is staycation, so an eco glamping holiday could be the perfect getaway for you this summer.
What is glamping?
Glamping allows you to experience the best of the great outdoors without compromising on the quality and comfort that many hotels offer. Think fluffy towels and dressing gowns, luxury eco toiletries, organic breakfast hampers, books by the woodfire, fizz in the hot tub, toasted marshmallows over the campfire, and evenings wrapped in blankets watching the stars while drinking hot chocolate or gin cocktails.
Glamping really is for anybody of any age – couples, families, groups of friends, corporate groups, young and old and everyone in between.
Regardless of what you want to get out of your glamping experience, it's the perfect opportunity to go off grid, recharge your batteries, and reconnect with nature. Just what we all need every now and then!
The secluded location of many glamping sites means social distancing should be relatively easy. You'll have more privacy, access to explore wide open spaces, amazing views and sunsets, plenty of fresh air, and it's generally a very sustainable way to holiday.
A glamping holiday is a fantastic way to have fun and relax with kids (all that space to run around) and large groups (communal dining and drinking whilst social distancing can be done)!
How much does it cost?
Costs for packages vary considerably so you really can make it as cheap or luxurious as you'd like. Whether you plan to stay in a bell tent, yurt, cabin, hobbit house, shepherds' hut, safari lodge, tipi, dome pod, gypsy wagon, goji, or treehouse (the list goes on!), you're sure to have a unique and memorable holiday.
Get inspired for your next glamping break as we give you some of the best eco glamping holidays available to book now. This is our top 15.
1. Kudhva
Where: Tintagel, Cornwall
Stay in a luxury contemporary hideout totally off-grid deep in the woods by the Cornish coast. Choose from a Kudhva (Danish cabin) or tree tent and feel like you're being cradled by the natural world as you hang suspended amidst the treetops. There are bar facilities onsite as well as a hot tub
Eco: Solar powered, natural water supplies, compost toilets, responsibly sourced products and services, limits waste sent to landfill, offers lectures and talks about sustainability.
2. Larkhill Tipis & Yurts
Where: Near Cardigan Bay and Carmethen Bay, West Wales
Set on the edge of an enchanting four-acre woodland near miles of sandy beaches, guests can stay in tipis or yurts at Larkhill.
Eco: Larkhill is a certified eco-friendly off-grid glamping site. Electricity is produced using green renewable energy, all food waste is composted, they make it easy for guests to recycle, they use ethically sourced cleaning products and toiletries (provided free of charge), they've planted 4 acres of woodland, created habitats for wildlife, and built a compost toilet.
3. Pickwell Manor Treehouses
Where: Braunton, North Devon
If you've ever wanted to stay in a treehouse in the middle of the woods, now's your chance. Luxurious and intimate, the secluded treehouses at Pickwell Manor provide views of the sea or surrounding woodland from your bed. And some include a hot tub.
Eco: The treehouses are handcrafted using sustainable British trees, solar panels provide all their heat and light, and the water is sourced from their natural spring.
4. Brook House Woods
Where: Bromyard, Herefordshire
With options to stay in a luxury treehouse, yurt, hobbit house, or tree tent, there is something for everyone at Brook House Woods. Ideal for those wanting a decadent break in a secluded location. Lots of activities are on offer including sustainable woodwork, tennis, yoga, cider tasting, raw chocolate making, in-room massage and beauty treatments, and more.
Eco: All the structures are made using locally grown wood in a way that maintains the health of the woods. Wind and sun energy is used for power, water is sourced from the farm and is not chemically treated, their cleaning products are biodegradable, and toilet roll is recycled.
5. Wingbury Farm
Where: Wingrave, Buckinghamshire
Stay in one of three luxury en-suite glamping pods in the heart of the Buckinghamshire countryside, which includes your own private handmade Scandinavian wood-fired hot tub, BBQ, and fire pit.
Eco: The glamping pods are powered via solar panels, and the heating and hot water are provided by ground-source heat pumps.
6. Daisy Cabin
Where: Buntingford, Hertfordshire
Nestled in a private orchard in the heart of the open countryside, Daisy Cabin offers bespoke retreat packages focused on wellness and mindfulness.
Eco: The solar powered cabin is built mainly from reclaimed materials so it's a low impact way to do a glamping getaway.
7. Brockloch Bothy
Where: Dumfries & Galloway, Scotland
Stay in either the Eco Bothy or treehouse at this luxury eco retreat in south west Scotland. Both contemporary structures have featured on George Clarke's amazing spaces! You can gaze at the stars through the skylight in the treehouse while cosied up in your Egyptian cotton bed linen or gaze at the panoramic views by the outdoor fire bowl.
Eco: The structures are made using sustainable timber and insulated using sheep's wool, solar panels provide electricity, and even the paint is environmentally friendly.
8. Loveland Farm
Where: Hartland, Bideford
Sustainability comes first at this eco-retreat located on the Hartland Peninsula in North Devon, which also couples as a design studio. Each of the 6 geodesic domes on site comes with its own private shower and the Loveland includes a projector for movie nights. Don't fancy staying in a dome? Stay in one of their new tipis instead.
Eco: Energy is powered using solar panels and a recycled wood chip biomass system, they provide locally-sourced food, and the award-winning eco compost toilet 'thrones' use no chemicals (and also offer stunning sea views).
9. Jollydays Glamping
Where: York
Stay in a woodland tent, woodcutter hut, or lodge tent in the magical woodland surrounds of this Yorkshire eco glampsite. Kids (big and small) will love to experience the many fairy trails in England's first fairy sanctuary.
Eco: Very little is attached to the ground to preserve the environment, they use renewable energy where possible, and they are a gold award holder of the Green Tourism scheme.
10. Loch Ken Eco Bothies
Where: Dumfries & Galloway, Scotland
Each of the four custom-built eco cabins (called bothies) are nestled in their own private area on the shores of the Loch Ken in Southwest Scotland. You get your own private log burning hot tub and kayak to explore the loch.
Eco: Powered using renewable energy – solar panels for lighting, wood fuel for the hot tub and log burner, gas for the stove and rain shower. The cabins are furnished using recycled and refurbished materials.
11. Cae Wennol Yurts
Where: Conwy, North Wales
Set in the picture-perfect Conwy Valley overlooking wildlife-rich eco ponds, Cae Wennol offers the perfect setting for glamping under the Snowdonia sky. Stay in a traditional Mongolian yurt within the gardens.
Eco: The toilets are compostable and the eco hot showers use fresh spring water.
12. EcoPod Holidays
Where: Derbyshire Dales
Go totally off grid and stay in one of five EcoPods in the Derbyshire Dales of the Peak District. Book for a romantic getaway but also ideal for family gatherings, parties and team-building weekends. There are some activities onsite such as giant jenga and swingball and the hosts will even help you organize music entertainment and book children's entertainers.
Eco: The EcoPods are made with 50% recycled locally sourced wood, and the games room (which is heated by the sun) has a grass roof.
13. Devon Dens
Where: Germansweek, Devon
Stay in a cosy wooden cabin in a private eco-hideaway in the secluded woodlands of West Devon. At Devon Dens, you can indulge in a massage, enjoy the wood-fired sauna, or curl up with a good book in one of the hammocks.
Eco: The timber structures are made from sustainable local wood. The site is powered by solar panels, they have dry toilets using natural water filtration systems, all waste is composted, and the beehives and wildlife pond encourage biodiversity. They use locally sourced and home-grown food where possible.
14. The Secret Garden – Guilden Gate
Where: Guilden Gate, Hertfordshire
The Secret Garden is an enclosed smallholding containing an earth-sheltered Hobbit Hole surrounded by wildflower meadows, coppice woodland, vegetable fields, fruit orchards and herb gardens.
Eco: The cottage was built using sustainable materials and technologies, water is provided through rainwater harvesting and a borehole, greywater is recycled, and toilets are composted. Solar panels and a wind turbine provide renewable energy and the woodland provides wood for all heating, meaning Guilden Gate is a net zero CO2 emissions site.
15. Hill Farm Glamping
Where: Near Southam, Warwickshire
Situated on a working sheep farm on the end of the Cotswolds in the middle of rural Warwickshire, Hill Farm's shepherd's hut offers a secluded spot where you can bathe alfresco and shower amongst the trees. If you don't fancy the hut, you can always stay in the bell tent or tipi. Lots of activities nearby including horse riding, golf, cycling, and even llama trekking.
Eco: Private eco toilet, solar-lit lighting, grass-fed and sustainably reared sheep, eggs and honey from the farm.
If you want to make your glamping break even more enjoyable and eco-friendly, check out our pre-packed kits. We're giving readers 10% off the following kits until 31st July 2020. Use code ECOGLAMP10 at checkout.
If you enjoyed reading this, you might also like to read our interview with the luxury sustainable boutique accommodation provider, Portobello Tents.
The Jolly Turtle supplies eco-friendly bespoke and pre-packed kits for events, travel, hospitality, and lifestyle, offering a simple and convenient way to shop for all your plastic-free essentials.
There's nothing quite like entering a beautifully-decorated tent containing a proper bed dressed with sumptious bedding, all set up so you can literally drop your bags and get out in the field. This is the ultimate luxury in festival glamping!
Meet Laura Audley, one of our lovely glamping customers and Founder of Portobello Tents. I invited Laura to tell us about her wonderful tents and how Portobello Tents evolved to become a luxury sustainable boutique accommodation provider. Enjoy!
1. Tell us about Portobello Tents. Who are you and how did you start?
Portobello Tents is a luxury British glamping company that provides stylish canvas accommodation at festivals and events across the UK and beyond. Our logo, the triangle with a line at the top, is a glyph meaning 'explore'. We love the idea of exploring with our guests; finding inspiration along the way and creating beautiful events.
After some research, I spent November 2015 launching Portobello Tents from my parent's dining room, with the website going 'live' at the beginning of December. I somehow managed to speak to someone at Festival No. 6 who said they loved the website and how many structures did we have? I asked how many they wanted and promptly replied 'we have that' (I had nothing!)… I then had to buy tents, interiors and find a warehouse. Being able to say 'we'll be at Festival No.6' massively helped in talking to other festivals that first year.
2. That's so brave but the risk clearly paid off! What sets Portobello Tents apart from other glamping providers?
Hardwood beds – We only have proper hardwood beds – no airbeds or metal z-beds. They all come with 6" memory foam mattresses, which are in washable, breathable covers.
Professionally Interior Designed – I trained at the KLC School of Design in Chelsea before 7 years working in the industry. Although I'd love to spend hundreds of pounds furnishing each tent (!) it has been a creative challenge producing interiors which are within a budget, attractive and most importantly – can be packed and moved each week. We're basically a travelling hotel under canvas.
Our VIP Lotus Belles are really spacious and come complete with chandeliers, dressing gowns, slippers, plastic-free toiletry hampers and magazines. They really are a magical retreat!
3. Sounds like the ultimate luxury! I know that sustainability is important to Portobello Tents. How are you combatting the issue of single-use plastics?
We have made some small changes as well as trying to educate our guests along the way.
We have teamed up with RAW Foundation to produce a dual-branded zero plastic water bottle and our crew have made a pledge not to buy or use any single-use plastic water bottles – they all have a RAW bottle.
We have introduced (with the help of The Jolly Turtle), plastic-free toiletry hampers – they are brilliant and it is so nice to see a guest striding out of the shower in boutique camping with one under their arm!
People want to make changes themselves but aren't sometimes sure how, or where to start. So, one of our wonderful crew is a graphic designer and made some beautiful and super cool info graphic cards, which we leave in the tents – it lists a few ways to start doing your bit. We've had some excellent feedback from them.
In the warehouse we went from vacuum pack bags for the duvets (which never vacuumed and always broke) to bespoke waterproof, breathable ones which will last forever – red for king bedding and blue for single 🙂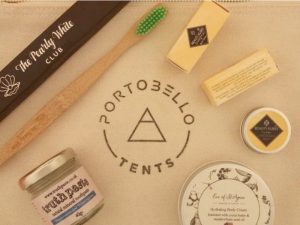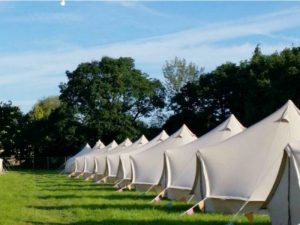 Plastic-free toiletry hampers; Tent symmetry in action (Photo credit: portobellotents.com)
4. We love seeing our plastic-free products in your tents! What are your top eco-friendly tips for glampers?
Eco–friendly glitter – I think most people are aware now that (non-eco) glitter is just tiny bits of plastic. Not cool.
Reusable water bottle – buy one for about £15 and refill it hundreds of times throughout your weekend from the water points around the site (or behind the bar). It will save you so much money as well as being that small change for the environment.
Invest in a waterproof that works and looks good (disposable ponchos are not the one!). There are some really great ones out there. Buy one with pockets – I love a pocket… not too many though.
Car share to festivals – we see so many friends who book tents and request to be pitched near each other (which is great!), but they will arrive in so many different cars at nearly the same time. Share where you can – it's way more fun and makes Sunday night / Monday morning less horrendous!
5. Really great tips. Which festivals can we see your wonderful tents at this year?
Run Fest Run, Wiltshire
Glastonbury (Pennard Hill Farm & Hotel Ziggu)
Noisily, Leicestershire
Westival, Wales
Camp Bestival, Dorset
Wilderness, Oxfordshire
Houghton, Norfolk
PX+ Festival, Hertfordshire
Lost Village, Lincolnshire
Great Dorset Steam Fair
Camp Wildfire, Kent
Burghley Horse Trials, Lincolnshire
6. You'll certainly be busy then! Do you have any funny or embarrassing festival stories you'd like to share?
At the end of our first season we went to Germany with our beautiful Lotus Belle tents. We had nearly finished setting up 35 tents in very hard ground when I was asked to come to explain the smell in a tent. I followed a stern German man into a tent and watched him inhale deeply. He then looked at me and nodded for me to do the same – I started heavy breathing with him none the wiser. After a few deep breaths (and a head rush) he said "you see!". I didn't. He then said "you need to get rid of this smell. It smells too much like tent!". He wasn't joking so I assured him we would 'fix' the problem. Cue Nikki, my right-hand woman, and her trusty Febreze!
Well done, Nikki! I'll have to see if I can smell 'eau de tent' next time I'm in one of your tents! Thank you so much for speaking to me today and hopefully we'll see you in the field at Wilderness!
If you want to find out more about Laura and her team's tents and follow their journey across the festival fields this year, visit their website www.portobellotents.com.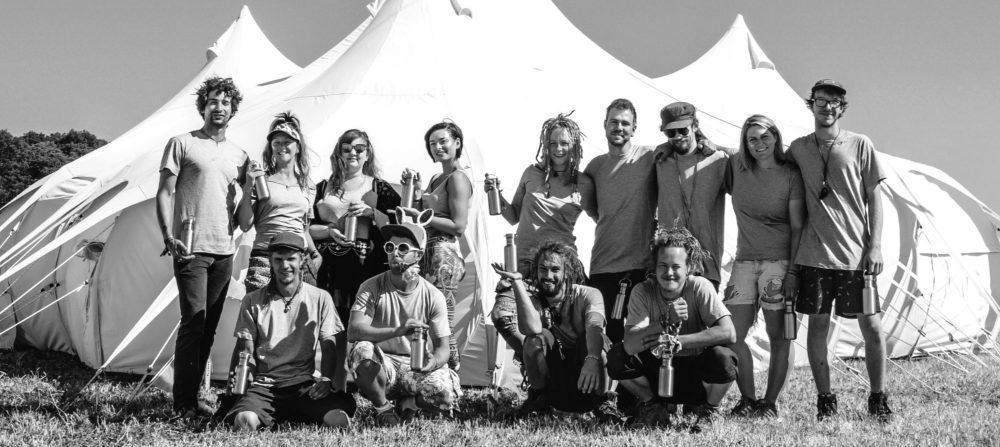 The Portobello Tent crew with their reusable Stainless Steel Bottles (Photo credit: portobellotents.com)
What are your top eco-friendly tips for glamping?
The Jolly Turtle supplies eco-friendly bespoke and pre-packed kits for events, travel, hospitality, and lifestyle, offering a simple and convenient way to shop for all your plastic-free essentials. 
There's nothing quite like entering a beautifully-decorated tent containing a proper bed dressed with sumptious bedding, all set up so you can literally drop your bags and get out in the field.