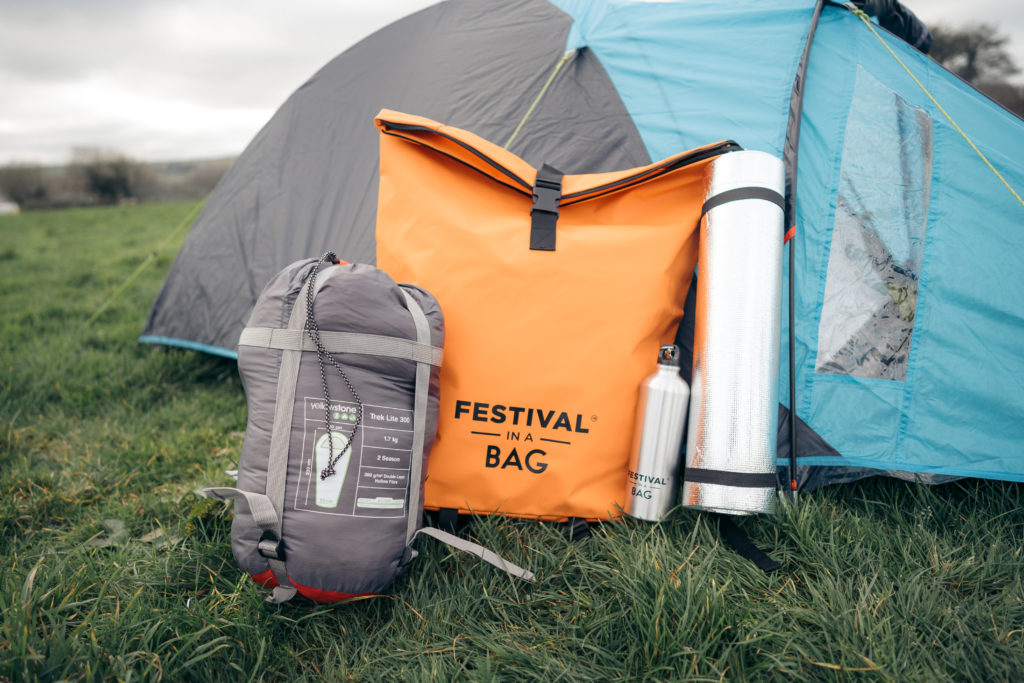 With festival season almost upon us, get festival-ready and check out our guest interview with Festival in a Bag.
Preparing for festival season is exciting, but can take quite a lot of thought and effort. Firstly, who will be on the line-up, and what will you wear? Then there are the practical elements, such as how you'll get there and what accommodation you'll use.
If you're planning to camp, do you have all the necessary kit? If you're a festival or camping virgin, you might not even know what you're likely to need.
Enter Festival in a Bag, the brilliant camping essentials provider for all your festival needs, and one of our partners. We caught up with the team to find out how Festival in a Bag works and why sustainability is more important than ever right now.
1. Firstly, how does Festival in a Bag work?
We are a one-stop sustainable solution for all your festival and camping essentials, providing everything you need from a sleeping bag, tent, roll mat, and water bottle, all in one rucksack. Each of our bags come with a unique number, making it easier to identify.
2. Such a convenient solution! What's your favourite item in your festival bag?
My favourite item is the bag itself. I love the space and the ease of the carry straps, and it can fit so much in it!
3. They do look incredibly spacious. Can your bags be used in any places other than festivals?
My festival bag has been my constant go-to rucksack when the family go hiking. Last year, my niece took her festival bag to her University with all her treasured items. It really can be used for everything!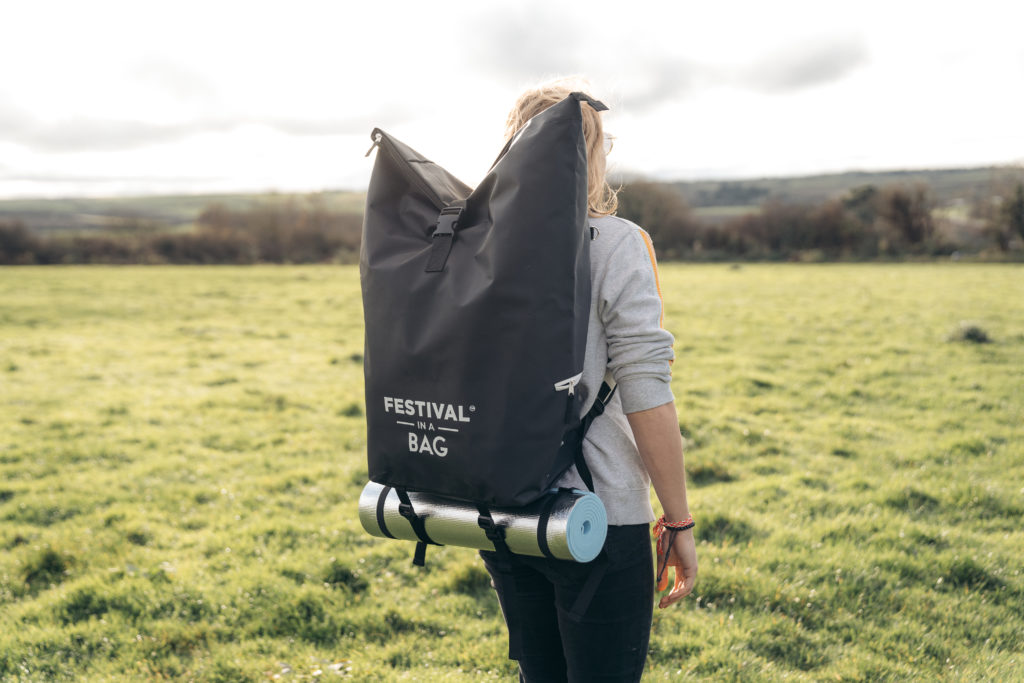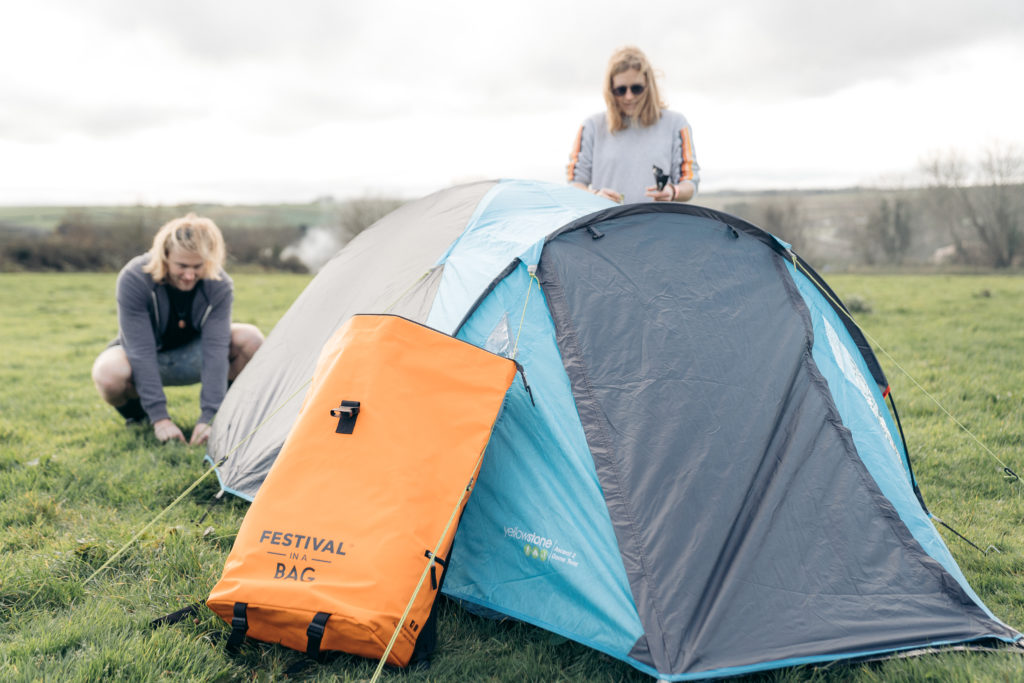 4. What a great idea! How have you been coping during the COVID-19 pandemic?
We have used this time to work on securing our future partnerships for the 2021 season. We are adding new products onto our Shop platform, which are eco-friendly. It's been a busy time for us all, updating products, renewing contracts, and looking forward to re-launching in 2021-2022.
5. We can't wait for festival season to resume, either! I know that sustainability is vital to Festival in a Bag. Therefore, what are your top eco-friendly tips for festivalgoers?
Our ethos is reuse and recycle. Being accountable as an individual, take what you need, refill your festival water bottle, and reuse your tents. It is all too tempting to discard a tent at the end of a festival (we supply a quality double skin 2-man tent). Our hygiene kit is entirely plastic-free, containing no chemicals or sprays, which we pack in a cloth drawstring bag. Perfect to be used time and time again. Remember to Reuse and Recycle – it's your future!
6. Fantastic advice for every festivalgoer. Finally, any tips to help festivalgoers find their tent easily at a festival?
Take a grid reference with your phone! All of our bags have a unique number, and once registered on our website, it's easy to trace and locate a festival.
More great advice! Thank you so much for speaking to me today. Hopefully, we'll see plenty of your festival bags around the festival fields this festival season!
If you want to find out more about Festival in a Bag and how they can help you prepare for your next festival, visit their website, www.festivalinabag.co.uk.
What's in your festival kit bag?
---
If you enjoyed reading this, check out some of our other guest interview posts:
The Jolly Turtle supplies eco-friendly bespoke and pre-packed kits for events, travel, hospitality, and lifestyle, offering a simple and convenient way to shop for all your plastic-free essentials.
If you're still deciding which festival to go to next year, we've pulled together some of the best official festival aftermovies from some of the UK's biggest festivals held in 2019. Most festivals have sadly had to cancel their event this year, but planning for 2021 is in full swing and there's no better time to look and book your tickets than right now if you haven't already.
From rock to electronic, Afro-Cuban to underground grime, we cover a variety of some of the biggest UK music festivals to suit the most discerning of festivalgoers. Pour a cold drink, sit back and relax, and enjoy the magical festival nostalgia of yesteryear!
DOWNLOAD FESTIVAL
| | |
| --- | --- |
| Date: | 4-6 June 2021 |
| Location: | Donington Park, Derbyshire |
The UK's premier rock festival features over 100 metal, rock and punk pop acts, as well as spectacles like the UK Air Guitar Championships and wrestling matches. Download's 2019 headliners included Def Leppard, Slipknot, and Tool. Website
Their 2021 line-up hasn't been announced yet but 2020 was going to feature Kiss, Iron Maiden, and System of a Down.
CREAMFIELDS
| | |
| --- | --- |
| Date: | 26-29 August 2021 |
| Location: | Daresbury, Warrington |
One of the best dance festivals in the world, Creamfields featured some of the following legendary dance acts in 2019 – Calvin Harris, Swqedith House Mafia, Annie Mac, and Tiesto. Website
Their 2021 line-up includes Carl Cox, Deadmau5, Eric Pridz, and Tiësto. Check out the full line-up so far.
NASS FESTIVAL
| | |
| --- | --- |
| Date: | 8-11 July 2021 |
| Location: | Shepton Mallet, Nr. Bristol |
With almost as many sport courses as music stages, NASS is a grime and hip-hop festival featuring international pro skate, BMX competitions, and street art. Their 2019 headliners included Giggs, Rudimental, and Cypress Hill. Website
The 2021 line-up will feature headliner, The Streets, with loads more to be announced. Full line-up so far.
WOMAD
| | |
| --- | --- |
| Date: | 22-25 July 2021 |
| Location: | Charlton Park, Chippenham |
Womad offers over 150 cutting edge performances from world-class musicians represented by over 50 countries. 2019 headliners were Zizzy Marley, Anna Calvi, and Orbital. Website
The line-up for 2021 hasn't been announced but 2020 was going to feature Angelique Kidjo, The Flaming Lips, Kate Tempest, and Mariza.
BOOMTOWN
| | |
| --- | --- |
| Date: | 8-11 July 2021 |
| Location: | Matterley Estate, Hampshire |
Described as the most theatrically immersive festival experience on earth, Boomtown is a fantasy city of music, theatre, escapism and much more. Headliners from 2019's 'A Radical City'-themed festival include Lauryn Hill, Prophets of Rage, and The Streets. Website
Their 2021 line-up hasn't been announced yet but you can get an idea of who might be playing from the 2020 line-up.
READING LEEDS
| | |
| --- | --- |
| Date: | 27-19 August 2021 |
| Location: | Reading & Leeds |
One of the biggest UK festivals to take place, Reading and Leeds share the same line-up over the August bank holiday weekend. 2019 headliners included Foo Fighters, Billie Eilish, and The 1975. Website
The line-up for 2021 is yet to be announced but 2020 was due to feature Liam Gallagher, Stormzy, and Rage Against the Machine.
Have you been to any of these festivals? Did you enjoy watching these festival aftermovies?
Don't forget to order your plastic-free festival kit once you've booked your festival ticket. We offer an Eco Festival Essentials Kit and an Eco Festival Kit.
If you liked this post, check out 8 Aftermovies of 2018 from Europe's Biggest Music Festivals.
The Jolly Turtle supplies eco-friendly bespoke and pre-packed kits for events, travel, hospitality, and lifestyle, offering a simple and convenient way to shop for all your plastic-free essentials.
Along with all players in the events industry, the global festival scene has been extremely hard hit by the impact of COVID-19. Most festivals due to take place this summer have already cancelled and it's likely many more will follow suit. This is a disaster for the festival industry, and leaves its future uncertain.
What it has done, though, is force the events industry to think creatively as festivals devise new ways to survive this uncertain period and the aftermath, as well as make sure their fans don't miss out on the party at home.
Some of the festivals that were forced to cancel held a virtual festival over the Easter bank holiday. These include Camp Bestival's Stay at Home Sleepover, Morning Gloryville, Defected Records' livestream, and Digital DGTL. Most of these festivals donated proceeds to charities.
The concept of the virtual festival isn't new but it's bound to become more popular this year. Although it's not the same as going to a festival, just think of the cheap drinks, the clean toilets, hot showers, and the warm cosy bed – unless you're camping in your garden of course!
Here's a list of some festivals coming to a device near you soon. And don't forget to check out our Events calendar, which we'll update as other virtual festivals are announced.
One World Together at Home
When: Saturday 18th April at 1am UK time
Where: Various platforms
Big Acts: Elton John, Lizzo, Paul McCartney, Billie Eilish, Stevie Wonder
Lady Gaga has already partnered with the World Health Organization and Global Citizen to raise millions of dollars ($35m at the time of writing) to fund medical equipment and testing capabilities across the globe.
She's also launching a virtual festival, One World Together At Home, on 18th April to feature dozens of leading music performers as well as stories and messages highlighting the critical work frontline healthcare workers do.
No donations necessary as the fundraising will already have been completed by the time the festival goes live.
Block By Blockwest
When: Saturday 25th April at 8pm UK time
Where: Block By Blockwest or Discord for account holders
Big Acts: Pussy Riot, Nothing Nowhere, Hunny, Fever 333
You don't have to be a Minecraft expert or fan to get access to Minecraft's virtual music festival, but you can expect some cool digital gamification. Use avatars to move around the different festival stages, check out the artist merch tents and art gallery, or participate in a few of its games.
All proceeds from this festival will go to the Corona Virus Emergency Response fund.
S.A.F.E. Music Festival
When: Thursday 7th to Saturday 9th May from 9pm to 7am and Sunday 10th May 8pm to 1pm UK time
Where: https://www.safemusicfestival.com/
Big Acts: Young Bombs, Danny Quest, Cade, Mammoths, Vegabonds
Travel with your friends to this virtual festival within the comfort of your own home. S.A.F.E is free to attend as long as you subscribe. You can try out some pre-show wellness experiences such as yoga and workouts. During the main festival event, expect interactive chat rooms during live streaming, and competitions to win prizes.
Download Festival
When: Friday 12th to Sunday 14th June 2020
Where: You Tube, Facebook, Twitter, Instagram
Big Acts: TBC
If you're wondering how to mosh at a socially responsible distance, you've landed in the right place with Download's digital festival. Expect exclusive footage, interactive content, special interviews, and a mix of great rock music. And you can air guitar like no-one's watching!
Grab yourself a special edition charity T-Shirt from Download's webshop to help raise money for the NHS.
Burning Man
When: Sunday 30th August to Monday 7th September 2020
Where:TBC – Updates here
Big Acts: TBC
One of America's major festivals, Burning Man, is planning to hold a virtual festival instead of in its usual Black Rock City in the Nevadan desert. Introducing 'The Burning Man Multiverse', where 100,000 participants will be invited to explore new ways to connect and live more sustainably. It will be ticketed but over 90% of revenue will contribute to the non-profit festival's many year-round cultural programs.
If you enjoyed reading this blog post, you might be interested in our article about festival apps.
The Jolly Turtle supplies eco-friendly bespoke and pre-packed kits for events, travel, hospitality, and lifestyle, offering a simple and convenient way to shop for all your plastic-free essentials.
If you went to a festival several years ago (I'm talking 10+ years), you had to stick with your festival tribe if you wanted to prevent being split up and lost.
Every year, we get lots of parents asking us what they need to take to a festival with kids. Yes, the list is long but it's important to be well prepared as having all the essentials can make all the difference to your experience.
Damon Culbert works for The Juice Guru, a mobile juice bar supplier in the UK. The Juice Guru supports greener practices by using only compostable and recyclable products.
I'm a firm believer that festivals are for everyone and that everyone should benefit from the amazing musical, artistic, cultural, and social experiences that festivals offer.
If you love a big crowd and want to see on stage only the best artists in the world in your chosen genre, a large festival may be right up your street and festival aftermovies are a great way to get a sense of a festival experience.
There are some huge festivals in the UK but you don't need to be confined to those on your doorstep as you can experience some amazing festivals abroad. We've pulled together some of the biggest festivals in Europe and to help you decide which one's best for you, we've included the official aftermovies from 2018.
So, turn up the volume and pour a cold drink while you immerse yourself into some of the biggest and best festivals of yesteryear.
The Jolly Turtle supplies eco-friendly bespoke and pre-packed kits for events, travel, hospitality, and lifestyle, offering a simple and convenient way to shop for all your plastic-free essentials.